Hyundai Cancer Institute :: Adolescent and Young Adult Treatment Program
Just because we're a children's hospital, that doesn't mean we're only about little kids.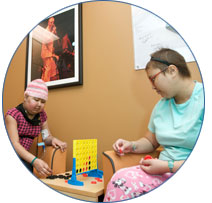 The Hyundai Cancer Institute at CHOC Children's is one of the only oncology programs in the entire country with a dedicated program for teens and young adults. Our Adolescent and Young Adult (AYA) team doesn't just cater to teens and young adults, we specialize in providing them with the latest treatments in a setting designed with them in mind. We work hard to provide teens and young adults with age-appropriate, disease-specific treatments with the goal of not only fighting cancer, but also providing a higher quality of life after treatment. Our teen and young adult program is truly unlike any other.
What We Treat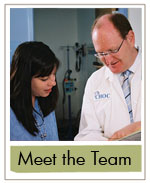 The AYA team at the Cancer Institute treats all adolescent and young adult patients with cancers including, but not limited to:
Hodgkins Lymphoma
Non-Hodgkins Lymphoma
Germ Cell Tumors
Osteosarcoma
Ewings Sarcoma
Synovial Cell Sarcoma
Leukemias (ALL, AML, CML)
Thyroid Tumors
High Grade Astrocytomas
Central Nervous System Germ Cell Tumors
Skin Cancer
The CHOC Cancer Institute Difference for Teens and Young Adults
Even though CHOC is known for treating children, the AYA Program at the Cancer Institute has gone above and beyond to create an age-appropriate environment for our teen patients. We understand that teens and young adults have needs, rights, and questions that are very different from our younger patients. We provide our teens and young adults with their own adolescent wing that includes:
AYA Patient and Family Resources

Because teens and young adults often have sensitive questions about their treatments, we have created
Straight Talk
—an online collection of cancer-specific information aimed to answer questions on issues like fertility, sex, teen and young adults rights, and much more.
Teen Room
A private, social area for our AYA patients featuring teen-oriented games and activities. A computer is available and approved websites are accessible for patients to learn more about their diagnoses and communicate with other teens.
Hope Room
A resource room available to patients and their families featuring a computer and a range of educational materials designed to help families better understand diagnoses and treatments.
Teen Night
An opportunity for our teen patients to socialize and participate in age appropriate activities.
Oncology Prom
An annual event that gives teen patients the opportunity to enjoy an important life event that they may have missed at their own schools because of cancer treatment.
Psychosocial Services
In addition to providing innovative medical treatment and follow-up care, the AYA team also addresses the psychosocial needs of teens and young adults. Life is stressful enough—and when cancer is thrown into the mix, it's great to know that support is close at hand. The AYA program provides ongoing psychosocial services to help patients address issues related to self-image, relationships, sexuality, fertility, mental health, education and employment through every phase of treatment. It is important that our patients know that we truly understand their feelings and needs and are here to help them every step of the way.
National Melanoma Awareness Project
In collaboration with the University of California, Irvine, the Cancer Institute is proud to participate in the National Melanoma Awareness Project. Spotting a spot early can save a life. Five to ten percent of melanoma deaths are in young people under 25 years old. Learn more about skin cancer and early detection today!
Clinical trials
At the Hyundai Cancer Institute at CHOC Children's, we incorporate the latest clinical protocols in the treatment and long-term follow-up of children and adolescents with cancer. Through our affiliation with the Children's Oncology Group, we offer our patients access to clinical trials and advanced treatment options not available elsewhere in the region. Learn more about our clinical trials.
Straight Talk
is CHOC Children's exclusive information site written just for teens and young adults with cancer. The site talks about everything from relationships to sexuality to fertility and so much more!
Click here for more Straight Talk.