Project Search Fund in Memory of Dr. Sherwin Gillman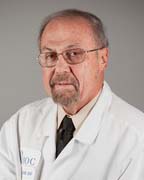 A respected clinician and renowned researcher, Dr. Sherwin Gillman served on the CHOC medical staff for 44 years. During that time, he assumed numerous leadership roles, guiding and supporting his colleagues, and advocating for patients and families. His commitment to CHOC, and our mission and vision, was inspiring.
An outstanding physician, a natural leader, a loved family man, and a dear friend, Dr. Gillman will be missed by his CHOC family.
To honor his memory, a fund has been set up for Project SEARCH. CHOC is partnering with Project SEARCH to provide internship opportunities for young adults with intellectual and developmental disabilities. This internship program will allow these adults meaningful work opportunities.
A Bright Future: Josh's Story
When Josh Siembieda was just a toddler, he had a severe reaction to milk and was taken to CHOC.
That hospitalization in 1986 was the beginning of a long relationship with CHOC as he and his family worked to control his allergies and asthma. He became a frequent patient of Sherwin Gillman, M.D., visiting his office "hundreds" of times as a child. He took regular allergy shots and participated in Dr. Gillman's summer asthma camp.