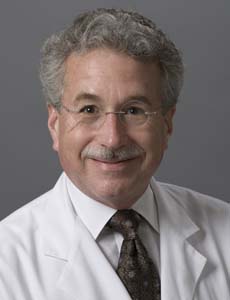 Pediatric orthopaedic surgeon and researcher Samuel Rosenfeld, MD, has gained a national reputation for excellence in pediatric neuromuscular diseases, specializing in spina bifida, muscular dystrophy (MD), scoliosis, cerebral palsy, hydrocephalus, spasticity and other pediatric neuromuscular diseases, and rehabilitation.
One of Dr. Rosenfeld's key accomplishments is the creation of a multidisciplinary clinic at CHOC for the treatment of children with MD, spina bifida and spasticity. He directs CHOC Muscular Dystrophy Association Clinic, the only pediatric program in Orange County designated by the Muscular Dystrophy Association to help families understand and manage muscle disease.
Dr. Rosenfeld is especially interested in devices, as evidenced by an impressive track record of innovative clinical and research projects and publications.
For example, he was the first orthopaedic surgeon on the West Coast to use the PRECICE® Remote Control Device to perform limb lengthening. The device, cleared for use by the U.S. Food and Drug Administration in July 2011, is implanted with minimal incision surgery. A magnetic motor assembly in a rod is placed inside the patient's bone, and the surgeon remotely controls the rod to gently and more accurately control the rate of lengthening.
For the past 15 years, Dr. Rosenfeld has focused his attention on exploring innovative approaches in treating neuromuscular scoliosis (NMS), an irregular spinal curvature caused by disorders of the brain, spinal cord and muscular system. A few of the more common conditions associated with NMS include MD, cerebral palsy and spina bifida.
"I am working on developing novel spinal fixation alternatives for children with NMS," Dr. Rosenfeld says. "Our goal is to improve correction of the deformity while decreasing complication rates. We have presented this work at international meetings."
Dr. Rosenfeld is also working on spinal instrumentation for patients under 9 years old that allows for the child's growth. "We have experienced success in this area, and plan to publish our findings in journals in the near future," he says.
Another advance studied by Dr. Rosenfeld involves children with cerebral palsy with major hip disorders. Dr. Rosenfeld published a retrospective study in The Journal of Children's Orthopaedics in 2016 (2016 Dec; 10(6): 657–664) describing the outcomes of a technique called "proximal femur prosthetic interposition arthroplasty."
"We found that PFIA, which involves using a prosthetic replacement of thigh bone closest to the hip, may be a good option for non-ambulatory children with cerebral palsy who have painful, spastic dislocated hips and who are not candidates for surgical reconstruction," Dr. Rosenfeld says.
In addition to his research, Dr. Rosenfeld is a member of the CureSMA Medical Advisory Committee. Spinal muscular atrophy (SMA) is a disease that robs people of physical strength by affecting the motor nerve cells in the spinal cord—taking away the ability to walk, eat or breathe. It is the number one genetic cause of death for infants.
In addition, Dr. Rosenfeld was named to the Professional Advisory Committee Spina Bifida Association, where he and his colleagues are developing new care guidelines for patients with spina bifida. "There has been more interest recently to modernize these guidelines, and I am excited to be a part of that," he says.
"Indeed, my goal with my involvement in these national committees is for children with neuromuscular conditions to receive optimal care," Dr. Rosenfeld adds. "We also want to smooth the transition of these children to adult care providers."