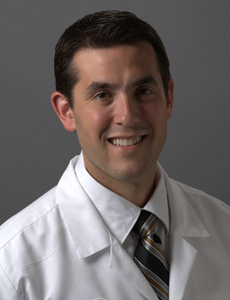 Pediatric orthopaedic surgeon and researcher John A. Schlechter, DO, runs an extremely busy sports medicine and arthroscopy practice at the CHOC Orthopaedic Institute, yet still finds the time to publish extensively on his biomedical studies and clinical outcomes research. His work has appeared in several peer-reviewed journals, including the Journal of Pediatric Orthopaedics, Journal of Children's Orthopedics, Current Orthopaedic Practice, Spine, and Arthroscopy.
"My focus is on fracture care, sports medicine and other orthopaedic conditions affecting children and adolescents," Dr. Schlechter says. "The goal with our research is to improve treatment approaches in these active young people."
The following list of topics Dr. Schlechter has published on vividly demonstrates both his range of interests and his contributions to the field of pediatric orthopaedics:
Reducing Cumulative Arm Overuse Injuries in Young Throwers
Under Pressure: The Utility of Spacers in Univalved Fiberglass Casts
Prosthetic Interposition Arthroplasty for Painful Dislocated Hips in Children with Cerebral Palsy
Casting: Pearls and Pitfalls Learned While Caring for Children's Fractures
Is There a Role for a Child Life Specialist During Orthopaedic Cast Room Procedures?
A Comparison of Various Contemporary Methods to Prevent a Wet Cast
One of Dr. Schlechter's interests is the outcomes from surgery to repair the anterior cruciate ligament (ACL), specifically in terms of kneecap instability.
"As specialized sports become more and more popular, with club teams and similar organizations continually pressing for excellence, it is no surprise we are seeing an exponential rise in sports injuries, including knee problems," he says. "When a young athlete tears his or her ACL, it can jeopardize his or her future in athletics."
Dr. Schlechter is an advocate for ACL injury prevention, including the value of allowing young athletes time to recover after an injury before they return to their sport, and neuromuscular training programs that protect the ACL as the athlete runs, jumps and pivots.
Dr. Schlechter points out that research is a crucial component of an advanced clinical program, but it requires funds to support it.
"At the CHOC Orthopaedic Institute, we run a very busy clinical practice," he explains. "To conduct clinical outcomes research and injury prevention research, we need a team of research personnel dedicated to supporting all of the components necessary to move forward on key projects. And this type of support costs money.
"We need non-MD experts who are solely dedicated to improving clinical outcomes of pediatric orthopaedic surgery through innovative research," Dr. Schlechter says. "With the help of our donors, we can fund this research, which will allow us to make a greater impact for children with orthopaedic injuries and conditions."