Dr. Wendy Ng, Plastic Surgery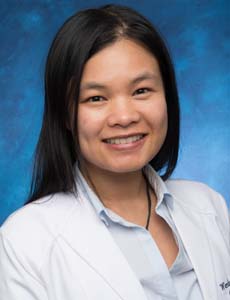 ---
Wendy K Ng MD

Office: 714-988-6330
Specialty: Plastic Surgery
Board Certified: Plastic Surgery
Dr. Wendy K.Y. Ng is a board-certified UCI Health plastic surgeon who specializes in plastic surgery procedures. She has a passion for plastic and reconstructive surgery for babies, children and teenagers, including congenital hand surgery such as syndactyly and duplicate digits, excision of congenital nevi, and otoplasty.
Dr. Ng earned a medical degree at the University of Western Ontario's Schulich School of Medicine & Dentistry in Canada. She completed a plastic surgery residency at McMaster University in Hamilton, Ontario, followed by a fellowship in hand, upper extremity and microsurgery at the University of Arizona's College of Medicine — Phoenix and the Center for Orthopedic Research and Education.
Dr. Ng, who has worked in international medical facilities such as a high-volume center in Vienna, Austria, brings a broad worldview and a deep understanding of all cultures to her practice. With a background in art and painting, she views her ultimate goal as providing patients with the best options for restoring form, function and beauty.
Wendy K Ng MD is on staff at CHOC Hospital in Orange .
Location
396 S. Main Street, Suite 200
Orange, CA  92868
phone:  714-988-6330
fax:  714-988-6360
Education
Medical School
University of Western Ontario, London, Ontario, Canada
Plastic Surgery Residency
McMaster University, Hamilton, Ontario, Canada
Hand Surgery Fellowship
Core Institute/University of Arizona, Phoenix, AZ