Dr. Elsa M. Aguilar-Arbues, Pediatrics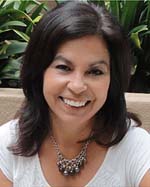 Dr. Aguilar-Arbues attended medical school at the University of California, San Francisco. She completed both her internship and her residency at University of California, Los Angeles Harbor Medical. She is affiliated with the Gateway Medical Group, St. Joseph Medical Group, and Genesis Medical Group.
Dr. Aguilar-Arbues is board certified in Pediatrics. Her philosophy of care includes the natural health of one's own body, not interfering unless absolutely necessary. She is specifically interested in Preventive Care and Attention Deficit Disorder.
Locations
Children's Medical Group
500 S Anaheim Hills Rd, Suite 110
Anaheim Hills, CA 92807
phone: 714-282-2229
fax: 714-282-7145
Education
Medical School
University of California, San Francisco, CA
Pediatrics Residency
Harbor-UCLA Medical Center, Torrance, CA
Elsa M Aguilar-Arbues MD

Appointments:
714-282-2229
Specialty: Pediatrics
Board Certified: Pediatrics
On Staff at: CHOC Children's Hospital