Dr. Felizardo S. Camilon, Otolaryngology (ENT)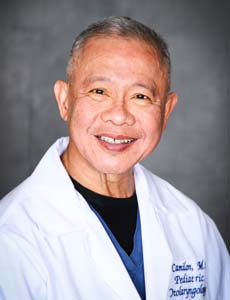 ---
Felizardo S Camilon MD

Appointments:
714-836-6607
Specialty: Otolaryngology (ENT)
Board Certified: Otolaryngology
Additional Languages: Tagalog, Spanish, Korean
Recognized as an expert in pediatric otolaryngology, Dr. Camilon is a multiple-year recipient of the Physician of Excellence award from the Orange County Medical Association and Orange Coast Magazine. He is affiliated with the American Academy of Otolaryngology-Head and Neck Surgery, the American Society of Pediatric Otolaryngology and the American Academy of Pediatrics.
Dedicated to clinical excellence, Dr. Camilon is board certified in otolaryngology by the American Board of Otolaryngology. Prior to joining CHOC, Dr. Camilon attended medical school at the University of Hawaii, School of Medicine. He served his internship in general surgery at the University of Hawaii, School of Medicine, and completed his residency in general surgery and otolaryngology at UC Irvine. Dr. Camilon conducted his fellowship at the Children's Hospital National Medical Center and George Washington University Medical Center. Dr. Camilon speaks fluent in Spanish, Tagalog and Korean.
Clinical Interests
Management of Airway Obstruction in Children; Head and Neck Tumors in Children Including Hemangioma; Otology and Hearing Loss in Children
Felizardo S Camilon MD is on staff at CHOC Hospital in Orange .
Locations
505 S Main St, Suite 275
Orange, CA 92868
phone: 714-836-6607
fax: 714-836-6600
1401 Avocado Avenue 802
Newport Beach, CA 92660
phone: 714-836-6607
Education
Medical School
University of Hawaii John A. Burns School of Medicine
General Surgery Residency
University of Hawaii
General Surgery Residency
University of California, Irvine, CA
Otolaryngology Residency
University of California, Irvine, CA
Pediatric Otolaryngology Fellowship
Children's Hospital National Medical Center, Washington DC
Academic Appointments
Assistant Clinical Professor
UC Irvine Division of Otolaryngology
Administrative Appointments
Chair, Otolaryngology, CHOC
Medical Director, Otolaryngology, CHOC
Honors and Awards
Physician of Excellence
OCMA, Multiple years