Dr. David T. Chang, Pediatric Otolaryngology (ENT)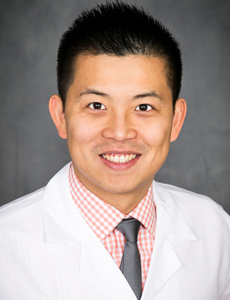 ---
David T Chang MD

Appointments:
714-633-4020
Specialty: Otolaryngology (ENT)
Board Certified: Otolaryngology
As an expert in the field of pediatric otolaryngology, Dr. David Chang provides care and surgical treatment for children with congenital and acquired head and neck tumors, sleep apnea, airway obstruction, hearing loss and sinusitis. He is the director of the CHOC Otolaryngology aerodigestive and sleep practice which utilizes a multidisciplinary approach to treat complex airway, sleep, and feeding disorders.
Dedicated to clinical excellence and evidence-based care, Dr. Chang is board certified in Otolaryngology and specializes in Pediatric Otolaryngology – Head and Neck Surgery. He graduated summa cum laude in Chemical Engineering at University of Michigan. Dr. Chang was subsequently accepted to the highly competitive medical scientist training program at Case Western Reserve University where he received his M.D and Ph.D in Biomedical Engineering and Biomaterials. His Otolaryngology residency training was completed at Stanford University Medical Center and Stanford's Lucile Packard Children's Hospital. His fellowship in Pediatric Otolaryngology was conducted at Boston Children's Hospital, the affiliated children's hospital of Harvard Medical School.
Dr. Chang has a passion for research with a primary focus on pediatric airway and ear research. He has authored numerous publications in peer-reviewed journals. Utilizing expertise in biomedical engineering and biomaterials, he aims to build a multidisciplinary translational research program dedicated to developing innovations that improve the care of his patients.
David T Chang MD is on staff at CHOC Hospital in Orange .
Locations
Otolaryngology Center – Newport Beach
446 Old Newport Blvd., 1st. Floor
Newport Beach, CA 92663
phone: 714-633-4020
fax: 714-953-5488
Otolaryngology Center – Irvine
250 E. Yale Loop, Suite 200
Irvine, CA 92604
phone: 714-633-4020
fax: 714-953-5462
Education
Medical School
Case Western Reserve University School of Medicine, Cleveland, OH
Otolaryngology Residency
Stanford University Medical Center, Stanford, CA
Pediatric Otolaryngology Fellowship
Boston Children's Hospital, Boston, MA
Professional Organizations
American College of Surgeons
Reviewer for International Journal of Pediatric Otorhinolaryngology
American Academy of Otolaryngology – Head and Neck Surgery
Publications
Chang DT, Zemek A, Koltai PJ. Comparison of treatment outcomes between intracapsular tonsillectomy and total tonsillectomy for pediatric obstructive sleep apnea. International Journal of Pediatric Otorhinolaryngology. 2016. In Press.
Chang DT, Chai R, DiMarco R, Heilshorn SC, Cheng AG. Protein-engineered hydrogel encapsulation for 3D culture of murine cochlea. Otology & Neurotology. 2015;36(3):531-538.
Chang DT, Truong MT. A child with silent sinus syndrome and spontaneous improvement after sinus surgery. International Journal of Pediatric Otorhinolaryngology. 2014;78(11):1993-1995.