Dr. Jeffrey L. Dobyns, Orthopedic Surgery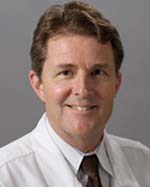 ---
Jeffrey L Dobyns MD

Appointments:
888-770-2462
Office: 714-633-2111
Specialty: Orthopedic Surgery
Board Certified: Orthopaedic Surgery
Jeffrey Dobyns, MD, is a board certified orthopedic surgeon with the American Board of Orthopedic Surgery and has been the director of the CHOC Fracture/Trauma Clinic for over 10 years. Dr. Dobyns attended medical school at the University of California, Irvine where he earned American Orthopaedic Association honors. He completed both his internship and residency program at the University of California Harbor Medical Center, Los Angeles.
As a member of CHOC medical staff, Dr. Dobyns is active in hospital, emergency and outpatient care. His special interests include fractures, trauma and sports medicine. He is affiliated with American Academy of Orthopedic Surgeons (AAOS), Western Orthopedic Association (WOA) and California Medical Association (CMA).
Dr. Dobyns' practice expertise includes adult, adolescent and children's care, including fractures, sports medicine, arthroscopy, ACL and meniscus repair, arthritis, total-joint replacement and joint injuries. He likes to spend time with patients and will attempt non-operative treatment whenever possible.
Jeffrey L Dobyns MD is on staff at CHOC Hospital in Orange .
Locations
CHOC Clinic
1201 W. La Veta Ave. Building: CHOC Clinic
Orange, California 92868
phone: 888-770-2462
fax: 855-246-2329
Adult and Pediatric Orthopaedic Specialists
1310 West Stewart Drive, #508
Orange, CA 92868
Education
Fellowship – Orthopaedic Research
University of California Harbor Medical Center, Los Angeles, CA
Medical School
University of California, Irvine, CA
Residency – Orthopedic Surgery
University of California Harbor Medical Center, Los Angeles, CA
Professional Organizations
American Academy of Orthopedic Surgeons (AAOS)
California Association for Health, Physical Education, Recreation and Dance (CAHPERD)
California Medical Association
Western Orthopedic Association (WOA)
Our orthopedic surgeons commonly treat:
Growth-related disorders and Osgood-Schlatter disease
Osteomyelitis