Dr. Suresh Magge, Medical Director, Neurosurgery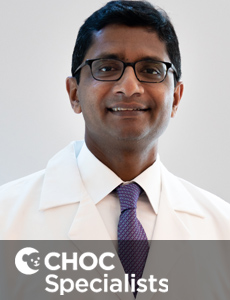 ---
Suresh Magge MD

Office: 714-509-7070
Specialty: Neurosurgery
Board Certified: Neurosurgery, Pediatric Neurosurgery
Dr. Suresh N. Magge is a board-certified pediatric neurosurgeon at CHOC Hospital in Orange, CA. As an expert in pediatric neurosurgery, Dr. Magge cares for babies, kids and teens with a wide variety of diseases of the brain and spinal cord, including brain and spinal cord tumors, neurovascular diseases including arteriovenous malformations (AVM) and Moyamoya disease, craniosynostosis (endoscopic and open surgery), Chiari malformations, hydrocephalus, tethered cord syndrome, spina bifida and other neurological disorders. He has particular interests in brain and spinal cord tumors, craniosynostosis and neurovascular disease. Dr. Magge uses both traditional and endoscopic (minimally invasive) techniques to treat neurological disorders with the least invasive methods possible.
Dr. Magge completed his neurosurgery residency at the University of Pennsylvania in 2008 and fellowship training in pediatric neurosurgery at Boston Children's Hospital in 2009. Before coming to CHOC in 2020, Dr. Magge practiced pediatric neurosurgery for 11 years (2009-2020) at Children's National Hospital/George Washington University School of Medicine in Washington D.C., where he was the fellowship director, and was ranked among the "Top Doctors" according to Washingtonian and Northern Virginia magazines. He also started the first endoscopic craniosynostosis program in the Washington D.C. area.
Dr. Magge serves as the medical director of neurosurgery at CHOC and co-medical director of the CHOC Neuroscience Institute. In his role, he provides comprehensive neurosurgical and neuro-trauma services, while helping lead the continued growth of the Neuroscience Institute. In addition to CHOC, he also covers Mission Hospital and UCI Medical Center.
Dr. Magge is co-chair of the CHOC neuroscience research committee where he provides guidance regarding neuroscience research at CHOC. His research interests include minimally invasive (endoscopic) treatment of craniosynostosis; new methods of diagnosis and treatment of diffuse intrinsic pontine gliomas (DIPGs), including the use of "liquid biopsies" for diagnosis; and treatment of neurovascular diseases such as Moyamoya disease. He has lectured extensively, especially about endoscopic craniosynostosis surgery, at national and international conferences. He has numerous publications in the neurosurgical literature on these topics.
"I went into pediatric neurosurgery because of the meaningful and long-lasting effects we can have on the lives of children and their families. I understand that hearing the diagnosis of a neurological disorder in a child can be one of the most stressful times of a parent's life, so I aim to treat each patient and family with the utmost compassion and respect. If surgery is necessary, I aim to employ the latest techniques in precision neurosurgery to use the least invasive methods possible."
Suresh Magge MD is on staff at CHOC Hospital in Orange .
Locations
CHOC  Specialists, Neurosurgery
505 S. Main St., Suite 300
Orange, CA 92868
phone: 714-509-7070
fax: 714-509-7074
Education
Medical School
Harvard Medical School, Boston, MA
Neurosurgery Residency
Hospital of the University of Pennsylvania, Philadelphia, PA
Neurosurgery Fellowship
Boston Children's Hospital, Boston, MA
Administrative Appointments
Medical Director, Neurosurgery
Co-Medical Director, CHOC Neuroscience Institute