Dr. Patricia A. Veiga, Pediatric Nephrology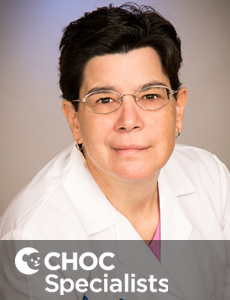 Dr. Patricia Veiga is board certified in pediatrics and pediatric nephrology with over 30 years of experience in nephrology. Dr. Veiga specializes in the treatment and management of all kidney diseases and related conditions, with emphasis in dialysis and hypertension. She completed her fellowship, residency and internship training at the Children's Hospital of Buffalo in New York and received her medical training at Saint Louis University in Missouri.
Dr. Veiga dedicates her free time volunteering for the Girl Scouts.
Locations
CHOC Children's Clinic
1201 W. La Veta Ave. Building: CHOC Clinic
Orange, CA 92868
phone: 888-770-2462
fax: 855-246-2329
CHOC Children's Health Center – Mission Viejo
26691 Plaza Suite 130
Mission Viejo, CA 92691
St Joseph Hospital
1100 W Stewart Dr
Orange, CA 92868
1300 W. Palmyra Dr.
Orange, CA 92868
Education
Medical School
St. Louis University School of Medicine, St. Louis, Missouri
Residency
Children's Hospital of Buffalo, Buffalo, New York
Academic Appointments
Clinical Professor
University of California, Irvine, School of Medicine
Administrative Appointments
Nephrology, CHOC Children's Specialist
Professional Organizations
American Academy of Pediatrics
American Society of Pediatric Nephrology
International Society of Pediatric Nephrology
National Kidney Foundation
Our nephrologists commonly treat:
Chronic kidney disease
Hypertension
Nephrotic syndrome
Proteinuria
Hematuria
Nephritis such as lupus, HUS, IgA nephropathy
Evaluation of causes of kidney stones
Electrolyte abnormalities
Cystic kidney diseases
Solitary kidney
Acute kidney injury and chronic kidney failure requiring dialysis
Patricia A Veiga MD

Appointments:
888-770-2462
Office: 714-509-8324
Specialty: Nephrology
Board Certified: Pediatrics, Pediatric Nephrology
On Staff at: CHOC Children's Hospital and CHOC Children's at Mission Hospital