Dr. Donald W. Bendig, Pediatric Hospitalist - Pediatrics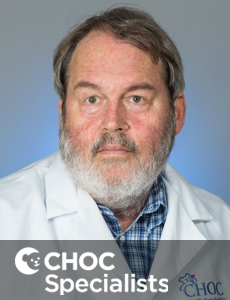 With more than 30 years of experience, Dr. Bendig currently serves as a Pediatric Hospitalist, intimately involved with the resident education program at CHOC. Dr. Bendig served as Chief of the Hospitalist Division with the CHOC Specialists for more than 12 years. Before Dr. Bendig transitioned to the Hospitalist Division, he practiced Pediatric Gastroenterology at CHOC for close to 20 years.
A prolific author and respected subject expert, Dr. Bendig has written multiple book chapters and has been published many times within the pediatric literature, including journal articles and abstracts. He has won several teaching awards during his tenure at CHOC, including the "Outstanding Clinical Volunteer Faculty Teaching Award" for multiple years.
Dedicated to clinical excellence, Dr. Bendig is board certified in pediatrics. He attended medical school at UC Irvine and completed his pediatric residency at UC Irvine Medical Center and CHOC. Dr. Bendig also served as the Chief Resident at CHOC. He completed his pediatric gastroenterology fellowship at Texas Children's Hospital in Houston, Texas.
Locations
CHOC Hospital
1201 W. La Veta Ave.
Orange, CA 92868
Education
Fellowship
Baylor College of Medicine Texas Children's Hospital
Internship
University of California, Irvine CHOC Hospital, Orange, CA
Medical School
University of California, Irvine
Residency
University of California, Irvine CHOC Hospital, Orange, CA
Administrative Appointments
Hospitalist, CHOC Specialists
Editorial Boards
ACTA Pediatrica
Clinical Pediatrics
Journal of Pediatric Gastroenterology and Nutrition
Professional Organizations
American Academy of Pediatrics
Contemporary Pediatrics
North American Society for Pediatric Gastroenterology
Orange County Pediatric Society
Donald W Bendig MD

Office: 714-509-8826
Specialty: Hospitalist – Pediatrics
Board Certified: Pediatrics, Gastroenterology and Nutrition
On Staff at: CHOC Children's Hospital