Dr. Vinh T. Lam, Pediatric Surgery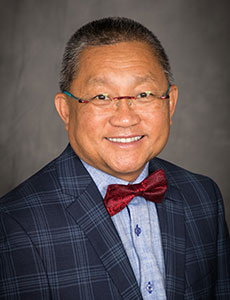 ---
Vinh T Lam MD

Appointments:
714-361-4480
Office: 714-361-4480
Specialty: Pediatric Surgery
Board Certified: General Surgery, Pediatric Surgery
Additional Languages: Vietnamese, Mandarin
A recognized expert in pediatric surgery, Dr. Vinh Lam is dedicated providing the highest quality of medical care utilizing the latest technological advances. Bringing a high level of expertise and experience, Dr. Lam is board certified in general surgery and pediatric surgery.
Dr. Lam received his medical degree at Harvard Medical School. He completed both his internship and his residency at Massachusetts General Hospital. He served his fellowship at Children's Memorial Hospital, Chicago. He is affiliated with the International Pediatric Endosurgery Group, Orange County Medical Association, American Medical Association, American Pediatric Surgical Association, and the Massachusetts General Hospital Surgical Society.
As a respected physician leader, Dr. Lam serves as chairman of the credential committee at CHOC at Mission Hospital. Honors include Harvard Medical School Scholarship. Dr. Lam has received the Physicians of Excellence award from the Orange County Medical Association every year since 2006.
In addition to providing excellent pediatric surgical care to the children of Orange County, Dr. Lam also has a deep passion for humanitarian work which he fulfills through providing health care to the impoverished and underserved populations of Southeast Asia by leading medical missions to Vietnam. Dr. Lam is fluent in English, Mandarin and Vietnamese.
Vinh T Lam MD is on staff at CHOC Hospital in Orange and CHOC Mission Hospital.
Locations
Pediatric Surgical Associates
396 S. Main St,  Suite 200
Orange, CA 92868
phone: 714-361-4480
fax: 714-361-4490
CHOC Health Center – Mission Viejo
26691 Plaza, Suite 130
Mission Viejo, CA 92691
CHOC Clinic
1201 W. La Veta Ave.
Orange, California 92868
Education
Fellowship
Children's Memorial Hospital, Chicago.
Internship
Massachusetts General Hospital
Medical School
Harvard Medical School
Residency
Massachusetts General Hospital
 Administrative Titles
Medical Director, General Surgery, CHOC
Committees
Cancer Committee
CHOC
Care Guideline Committee
CHOC
Chairman, Credential Committee
CHOC and CHOC at Mission Hospital
Medical Executive Committee
CHOC
Pediatric Surgery Specialty Advisor for Medical Students
UC Irvine, School of Medicine
Surgical Executive Committee
CHOC and CHOC at Mission Hospital
Honors and Awards
Physician of Excellence (2006 – present)
Orange County Medical Association
Presentations
Robotic Instructor, International Pediatric Endosurgery Group Annual Meeting 2007, Dallas, TX, USA
Professional Organizations
American Academy of Pediatrics, California Chapter 4
Member-at-Large, Board of Directors
American College of Surgeons
American Medical Association
American Pediatric Surgical Association
California Medical Association
Children's Oncology Group
International Pediatric Endosurgery Group
Massachusetts General Hospital Surgical Society
Orange County Medical Association