Dr. Christine H. Yang, Pediatric Gastroenterology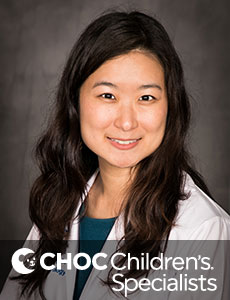 Dr. Christine Yang is a board certified physician at CHOC Hospital in Orange. As an expert in gastrenterology, Dr. Yang cares for babies, kids and teens with a wide variety of gastrointestinal disorders. She specializes in liver diseases, and has been actively involved in the development of a liver clinic at CHOC.
As a result of her dedication to clinical excellence, she has been awarded multiple grants for liver disease research and has gone on to publish her research and give presentations on a wide variety of liver diseases and gastrointestinal problems at both local and national conferences.
Born and raised near CHOC, Dr. Yang is honored to be able to serve the families of her home community that she understands so well.
Locations
CHOC Specialists, Gastroenterology
1201 W. La Veta Avenue
Orange, CA 92868
CHOC Health Center, Missio Viejo
26691 Plaza, Suite 130
Mission Viejo, CA 92691
CHOC Health Center, Corona
854 Magnolia Ave, Suite #101
Corona, CA 92879
Education
Medical School
University of Illinois Urbana-Champaign, Urbana, Illinois
Pediatrics Residency
Children's Hospital of Los Angeles, Los Angeles, CA
Pediatric Gastroenterology Fellowship
Lucile Packard Children's Hospital-Stanford, Palo Alto, CA
Awards and Honors
Stanford Medicine-Pediatrics Leadership Award, 2018
Stanford Children's Health Special Recognition Award, 2017
American Academy of Pediatrics California Chapter 2 Annual Research Award, 2014
NASPGHAN Annual Meeting Poster of Distinction: Motility/Functional Gastrointestinal Disorders, 2013
Alpha Omega Alpha Honor Society, Alpha Illinois Chapter, University of Illinois College of Medicine, 2011
Academic Appointment
Assistant Clinical Professor
University of California Irvine, Irvine, CA
Grants and Funding
Child Health Research Institute New Idea Grant, 2017
Transplant and Tissue Engineering Center of Excellence Fellowship, 2016
Resident Research and Travel Award, 2013
Publications
Yang Christine H, Sahoo Malaya K, Fitzpatrick Megan, Lau Audrey H, Pinsky Benjamin A, Martinez Olivia M. "Evaluating for human herpes virus 6 in the liver explants of children with liver failure of unknown etiology." The Journal of Infectious Diseases. jiy644
Yang Christine H, Goel Aparna, Ahmed Aijaz. "Clinical utility of ledipasvir/sofosbuvir in the treatment of adolescents and children with hepatitis C." Adolescent Health, Medicine and Therapeutics. 2018:9, 103-110.
Yang Christine H, Gomez Adam, Haldipur Anshul, Berquist William, Bass Dorsey. "Growing concerns: a 3-year old girl with multiple hepatic masses and gastrointestinal bleeding." Digestive Diseases and Sciences. 2018 Feb;63(2):329-333.
Yang Christine H, Perumpail Brandon J, Yoo Eric R, Ahmed Aijaz, Kerner John A Jr. "Nutritional needs and support for children with chronic liver disease." Nutrients. 2017 Oct 16;9(10).
Yang Christine H, Yoo Eric, Ahmed Aijaz. "The role of direct-acting antivirals in the treatment of children with chronic hepatitis C." Journal of Clinical and Translational Hepatology. 2017 March;5(1):59-66.
Yang Christine H, Gombar Saurabh, Twist Clare J, Gratzinger Dita, Esquivel Carlos O, Lau Audrey H. "Plasmacytic post-transplant lymphoproliferative disorder with hyperviscosity syndrome in a child after liver transplant." Hepatology. 2016 Dec;64(6):2250-2252.
Yang Christine H, Zhou Shengmei, Sophoclis Alexopoulos, Wang Larry, Baron Howard I, Genyk Yuri, Kerkar Nanda. "Orthotopic liver transplant for multifocal lymphangioendotheliomatosis with thrombocytopenia." Pediatric Transplantation. 2016 May;20(3):456-459.
Yang Christine H, Punati Jaya. "Practice patterns of pediatricians and trainees for functional constipation compared with 2006 NASPGHAN guidelines." Journal of Pediatric Gastroenterology and Nutrition. 2015 Mar;60(3):308-311.
Arkader Alexandre, Yang Christine H, Tolo Vernon T. "High long-term local control with sacrectomy for primary high-grade bone sarcoma in children." Clinical Orthopaedics and Related Research. 2012 May;470(5):1491-7.
Yang Christine H, Macdougall Amy MD, Ahmed M Nadeem MD, Ph.D., MPH, FAAP. "Fulminant purpuric rash in a toddler." Carle Selected Papers. 54(1):48-51.
Yang Christine H, Chao Lisa, Magsalin Rachel-Anne M MD, Dawson Sherfield III, MD/FACS. "Significance of elevated CEA levels as a marker for splenic metastases in a patient with colorectal carcinoma." Carle Selected Papers. 53(1):30-3.
Ali Farhan; Jadavji Nafisa M; Ong Willie Chuin Hong; Pandey Kaushal Raj; Patananan Alexander Nikolich; Prabhala Harsha Kiran; Yang Christine Hong-Ting. "Supporting undergraduate research." Science 2007 Jul 6;317(5834):42.
Oral Presentations
"A 3-year-old female with multiple hepatic masses." Digestive Diseases Clinical Conference. Stanford University School of Medicine, Stanford, CA. April 2017
"Pediatrics Residency Board Review: Constipation." Lucile Packard Children's Hospital, Palo Alto, CA. April 2017
"Humans and Viruses…10 Years Later." Microbiology & Immunology 155N: Viruses in the News. Stanford University, Stanford, CA. March 2017
"NASPGHAN guidelines for functional constipation compared to the current practices of pediatricians." Digestive Disease Week: Pediatric Functional and Motility Disorders Research Forum. Chicago, IL. May 2014
"Defying Occam's Razor: a 7-year-old male with vomiting and abdominal pain." Grand Rounds. Children's Hospital Los Angeles, Los Angeles, CA. January 2013
"Probing serine protease function in Plasmodium falciparum." National Conference on Undergraduate Research. San Rafael, CA. June 2007
Christine H Yang MD

Office: 714-509-4099
Specialty: Gastroenterology
Board Certified: Pediatrics
Additional Languages: Mandarin Chinese, Spanish
On Staff at: CHOC Hospital in Orange