Keirsten Montgomery, Pediatric Endocrinology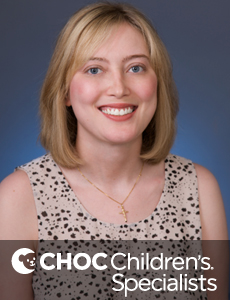 Keirsten D. Montgomery is a board-certified family nurse practitioner with CHOC Children's Specialists Endocrinology.   She received her bachelors of science in nursing degree from the University of Pittsburgh.  She started her career in healthcare in the Pediatric Intensive Care Unit at CHOC Children's Hospital.  She earned her masters of science in nursing with specialization as a family nurse practitioner degree from the University of California, Los Angeles.
Keirsten's clinical interests include adrenal disorders; including CAH and Addisons Disease; Turners syndrome, Type 1 and Type 2 diabetes, puberty, and growth.    She has the honor of teaching an educational growth lecture monthly to the parents of those referred to the endocrine department for growth concerns.  This growth lecture hopes to provide parents with a basic understanding of growth and its evaluation.
In addition to her clinical interests, Keirsten is active in research being completed at CHOC Children's Endocrine Division.  She recently completed her work as a PI on a research study investigating the "Tailoring of Preconception Counseling for Hispanic Adolescents with Diabetes."
Credentials 
Family Nurse Practitioner – Certified (FNP-C)
Locations
CHOC Children's 
1201 W. La Veta Ave.
Orange, CA 92868
CHOC Children's Health Center – Mission Viejo
26691 Plaza Dr, Suite 130
Mission Viejo, CA 92691
CHOC Children's Health Center, Corona
854 Magnolia Ave, suite 101
Corona, CA 92879
Keirsten Montgomery NP

Appointments:
888-770-2462
Office: 714-509-8634
Specialty: Endocrinology
On Staff at: CHOC Children's Hospital