Dr. Anthony Cherin, Pediatric Critical Care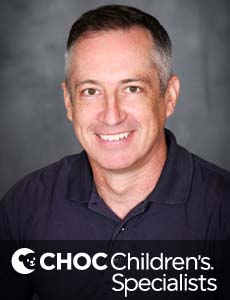 Dr. Anthony Cherin is board certified in pediatrics and pediatric critical care and provides the full range of tertiary-level critical care procedures. He is on staff at CHOC Hospital in Orange and CHOC at Mission Hospital. He has published chapters on pleural effusions and research on therapeutic hypothermia for hypoxic-ischemic central nervous system injury. His special interests include resuscitation, procedural sedation and palliative care.
Prior to joining CHOC, Dr. Cherin received his medical degree from the Ohio State University School of Medicine. He served his internship and residency training in pediatrics at CHOC and completed his fellowship in pediatric critical care at Harbor-UCLA in Torrance.
Dr. Cherin is conversant in basic medical Spanish and has been consistently recognized as one of Orange County's "Top Doctors." He was the director of the sedation team that was awarded the Patient- and Family-Centered Care Award.
Clinical Interests
Resuscitation, procedural sedation, palliative care
Research Focus
Improving critical care outcomes in pediatric patients
Locations
CHOC Hospital
1201 W. La Veta Ave.
Orange, CA 92868
CHOC at Mission Hospital
27700 Medical Center Rd
Mission Viejo, CA 92691
Hoag Memorial Presbyterian Hospital
1 Hoag Dr
Newport Beach, CA 92663
Education
Medical School
Ohio State University College of Medicine, Columbus, OH
Intern and Residency
CHOC Hospital, Orange, CA
Fellowship
Harbor-UCLA Medical Center, Torrance, California
Administrative Appointments
Academic Appointments
Assistant Clinical Professor
UC Irvine Medical Center
Research
Along with his colleagues, Dr. Cherin is involved in a number of studies aimed at improving critical care outcomes in pediatric patients. Among those studies, he is coinvestigator in a study investigating the protocol for optimum sedation for children intubated for respiratory failure. His past and current research findings have been published in journals including Critical Care Medicine and Neurological Research.
Honors and Awards
OCMA Physician of Excellence, 2010-2015
Sedation Team won Family Center Care Award

Marianne Cinat M.D. Memorial Heroes with Heart Award, 2016
Published Works
Pleural Effusions; chapter, The Care of the Hospitalized Pediatric Patient (pending publication)
Administration of allopurinol and hypoxanthine improves recoveryof adenine nucleotides after cerebral hypoxia-ischemia in rabbits. Critical Care Medicine: 30; A24, 2002.
The effect of hypothermic and normothermic hypoxia-ischemia on brain hypoxanthine phosphoribosyl transferase activity. Neurological Research: 28; 831, 2006.
Anthony Cherin MD

Office: 714-509-8620
Specialty: Critical Care
Board Certified: Pediatric Critical Care Medicine, General Pediatrics
On Staff at: CHOC Children's Hospital and CHOC Children's at Mission Hospital