Dr. Anh K. Dao, Allergy & Immunology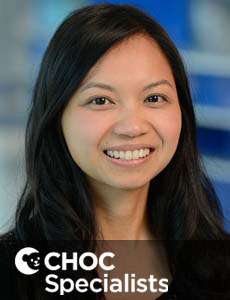 Dr. Anh Dao is a pediatric and adult allergist/immunologist at CHOC Hospital in Orange. As an expert in pediatric and adult allergy & immunology, Dr. Dao cares for babies, kids, teens and adults with a wide variety of allergy and clinical immunology problems. She specializes in allergic rhinitis, food allergy, asthma, atopic dermatitis, urticaria/angioedema and drug allergy.
Dr. Dao has research interests in drug allergy, quality improvement and environmental factors affecting obstructive lung disease. She works on initiatives to improve healthcare delivery and outcomes.
"I went into allergy/immunology after seeing the difference in quality of life an allergist can provide patients. I enjoy working with each patient and family to come up with an individualized care plan to help them with their allergic diseases."
Location
Batavia Woods
725 West La Veta Ave, Suite 100
Orange, CA 92868
phone: 714-633-6363
fax: 714-633-0178
Education
Medical School
New York Medical College, Valhalla, NY
Residency
Internal Medicine, University at Buffalo, Buffalo, NY
Fellowship
Allergy & Immunology, University of Cincinnati / Cincinnati Children's Hospital Medical Center, Cincinnati, OH
Anh K Dao MD

Office: 714-633-6363
Specialty: Allergy/Immunology
Board Certified: Internal Medicine
On Staff at: CHOC Children's Hospital