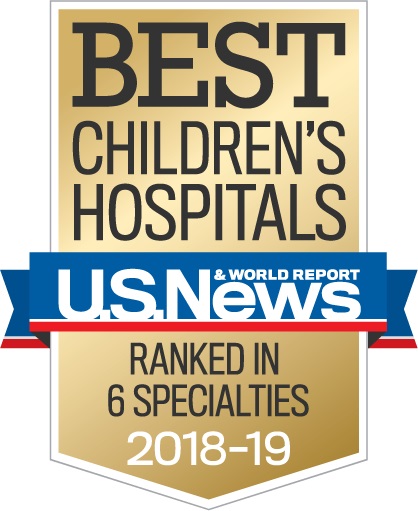 CHOC Children's has once again been named one of the nation's best children's hospitals by U.S. News & World Report in its 2018-19 Best Children's Hospitals rankings. CHOC ranked in six specialties: cancer, neonatology, neurology/neurosurgery, orthopedics, pulmonology and urology. Neonatology ranked in the "top 25," list for its specialty, and urology in the "top 20."
According to U.S. News, the Best Children's Hospitals rankings were introduced in 2007 to help families of children with rare or life-threatening illnesses find the best medical care available. The rankings recognize the top 50 pediatric facilities across the United States in 10 pediatric specialties, from cancer to urology.
"This honor reflects CHOC Children's steadfast commitment to the highest standards of patient care and safety," says Dr. James Cappon, CHOC's chief quality officer. "Recognition from U.S. News of our excellence in these subspecialties, including two on the top 25 lists, validates our efforts, but also provides our patients and families with even more assurance of our commitment to excelling in all areas of care."
The U.S. News Best Children's Hospitals rankings rely on clinical data and on an annual survey of pediatric specialists. The rankings' methodology factors in patient outcomes, such as mortality, surgical success and infection rates, as well as available clinical resources and compliance with best practices.
"The U.S. News Best Children's Hospitals highlight pediatric centers that deliver state-of-the-art medical care to children with complex conditions," said Ben Harder, chief of health analysis at U.S. News. "Children with life-threatening or rare conditions need the level of quality care that these hospitals deliver day after day."
Survival rates, adequacy of nurse staffing, procedure and patient volume, availability of programs for particular illnesses and conditions and more can be viewed at http://health.usnews.com/best-hospitals/pediatric-rankings.