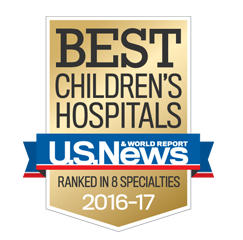 June 21, 2016 — U.S. News & World Report has named CHOC Children's one of the nation's best children's hospitals in the 2016-17 Best Children's Hospitals rankings. CHOC ranked in eight specialties: cancer, neonatology, neurology/neurosurgery, pulmonology, orthopedics, gastroenterology and GI surgery, diabetes and endocrinology, and urology, which earned a "top 25" spot on the coveted list.
According to U.S. News, the Best Children's Hospitals rankings are intended to help parents determine where to get the best medical care for their children. The rankings highlight the top 50 U.S. pediatric facilities in 10 specialties, from cancer to urology. Of the 183 pediatric medical centers participating in the survey, only 78 hospitals ranked in at least one specialty.
"The Best Children's Hospitals highlight pediatric centers that offer exceptional care for the kids who need the most help," said U.S. News Health Rankings Editor Avery Comarow. "Day in and day out, they deliver state-of-the-art medical care."
For its annual list, U.S. News relies on extensive clinical and operational data, and on an annual survey of pediatric specialists. Survival rates, adequacy of nurse staffing, procedure volume and much more can be viewed on http://health.usnews.com/best-hospitals/pediatric-rankings.
In addition to being honored by U.S. News, CHOC has been distinguished, multiple times, as a Leapfrog Top Hospital for demonstrating excellence in hospital safety and quality. Additional accolades highlighting CHOC's commitment to the highest standards of care and performance include the gold-level CAPE Award from the California Council of Excellence, a honor for which CHOC was the only children's hospital recognized in the state; Magnet distinction for nursing excellence; gold-level Beacon Award for Excellence, a distinction earned twice by CHOC's pediatric intensive care unit team; a 2015 "Most Wired Hospital"; and The Advisory Board Company's 2016 Workplace Transformation Award and the Workplace of the Year Award. Inspiring the best in her team, CHOC's President and CEO Kimberly Chavalas Cripe was named a winner of the EY Entrepreneur of The Year® 2015 Award in the "Community Contributions" category for Orange County and Inland Empire.