From www.ducks.nhl.com
By Jenelyn Russo – Special to AnaheimDucks.com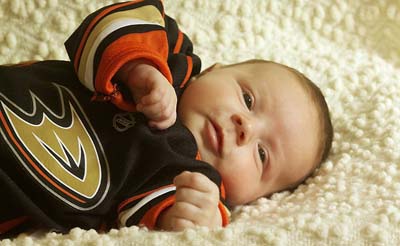 You don't have to look too closely to see the love Angela and Jerry Maldonado share for all things Ducks hockey.
Angela grew up in a roller hockey family, spending years playing the game since she was a young girl. After meeting Jerry while the two attended Fountain Valley High School, she introduced him to the sport and he's been hooked on it ever since.
The couple has played together in an adult roller hockey league at The Rinks – Huntington Beach Inline, where family members and church friends are their teammates. Even Angela's mom has served as the team's bench boss, making their commitment to the sport a true family affair.
As Angela, a special education teacher, and Jerry, a police officer, joined their lives together, their love for hockey meant choices like wearing jerseys for their engagement photos and hockey-themed wedding cake toppers. What started as attending just a few Ducks games a season has turned into five years as season seat holders.
So when it came time to announce the impending arrival of their first child, the occasion called for Ducks-themed birth announcements. Angela decorated the nursery with the appropriate orange and black accents as they prepared for their baby's summer birth.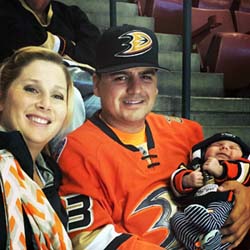 Last August 10, Maxwell Lincoln Maldonado was born at Hoag Hospital in Newport Beach. It wasn't immediately clear, but something with Max wasn't right.
"At first we didn't realize anything was wrong," said Angela of their newborn. "There was never any indication before he was born that there would be any problems. But he didn't cry. He just made a few grunting noises. He was obviously struggling. Jerry was concerned, but I didn't catch on."
Angela only held Max for about 30 minutes before he was taken away to Hoag's NICU for testing. The Maldonados spent the next several nervous hours waiting to find out what was wrong with their son.
Specialists from CHOC Children's were brought in to examine Max, and it was eventually determined he had a rare and serious heart defect called Total Anomalous Pulmonary Venous Return (TAPVR), Atrial Septal Defect and Patent Ductus Arteriosus. They're big words that essentially mean Max's heart did not develop properly and needed to be fixed immediately.
Instead of planning their trip home with Max, the new parents were signing papers to have their infant son transferred to CHOC for life-saving open heart surgery.
"When the staff came from CHOC to transfer him by ambulance, I wondered if it was the last time I would ever see my baby," Angela says.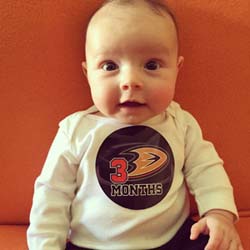 Still recovering from childbirth, Angela initially stayed behind at Hoag while Jerry traveled in the ambulance with Max and the team assembled from CHOC. Max was less than 24 hours old when CHOC's cardiac surgeons opened his chest to repair his tiny heart. Angela joined Jerry at CHOC just as Max made it out of the successful surgery.
"Just the relief of knowing he made it past the surgery," Angela says. "It was very emotional."
The Maldonados spent 11 long days at CHOC while Max recovered, sleeping in his room by his bedside. One of the first goals they worked toward was for Jerry to be able to hold Max, something he had yet to do since his son was born. Three days later, and still hooked up to several wires and tubes, Jerry got to hold his son for the first time.
"It was amazing," said Jerry, almost at a loss for words.
As friends and family members rallied around the Maldonados during this trying time, several of them began referring to their miracle baby as "Mighty Max." The nickname stuck, and little by little, Angela and Jerry's pint-sized hero kept making strides toward being able to go home.
While still at CHOC, Angela and Jerry received a gift for Mighty Max, a 20th anniversary Mighty Ducks jersey signed by Ducks captain Ryan Getzlaf, the perfect addition for the team's newest fan.
Now at three months old, Mighty Max is at home, making a full recovery, growing and developing just as he should. He's already been to his first Ducks game, sporting his own Ducks jersey, and is on track to attend many future games alongside his Ducks-dedicated mom and dad.
Angela and Jerry remain grateful to the entire staff at CHOC for how they were treated and the amazing work those people did in caring for their son during his critical first days of life.
"I will never forget," Angels says, "how kind everyone was to us."
Both the Ducks and the Maldonados are now asking fans to join them in support of the work CHOC Children's does daily for so many babies in our community, just like Mighty Max, by making a pledge to donate to CHOC for every goal the Ducks score this season.
Fans are able to set the donation amount per goal (the Ducks average approximately 250 goals per season) and all contributions are tax deductible. And if the Ducks go on a goal-scoring spree, monthly limits can be set for the donations to work within fans' budgets.
The Maldonados want all Ducks fans to know their contributions to CHOC not only save lives but change them as well. The birth of their first child was not at all how Angela and Jerry envisioned, but thanks to CHOC and the support of so many around them, their son Max is healthy, and mighty, indeed.
"CHOC does so many things, not just for the patients, but for the parents and the community," Angela says. "Your dollars aren't just helping save the lives of these babies, but they are helping make so many lives happier too."
To make a pledge this season to support the work of CHOC Children's in the lives of babies just like Mighty Max, visit choc.org/ducks.