From The Press-Enterprise
By Suzanne Hurt / Staff Writer
Riverside mother is thankful her daughter survived brain tumor removal seven years ago – "It's so amazing she could go through all that and be such a strong, happy little girl."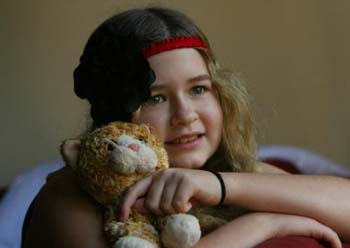 Eden Johnson was supposed to be working on spelling in the living room.
Instead, the Riverside 10-year-old was watching TV and playing with the family's three cats one recent morning.
Her mom, Stacy Cronin, looked across the room at the girl with the long blonde curls and pale green eyes and patiently reminded her a few times to get started on her school work. But the girl's procrastination was no big deal.
Cronin felt lucky her daughter was still alive. Seven years ago, Eden survived the removal of a brain tumor when she was just 3 years old.
At this time every year, Cronin relives the struggle they went through together — the memories and emotions. She has felt grateful every Thanksgiving since, and especially this year, when the holiday falls on Nov. 27, the day of the surgery.
"This year, with it being on Thanksgiving, it gives us more to be thankful for," she said. "It's so amazing she could go through all that and be such a strong, happy little girl."
Mysterious illness
Cronin — at that time, Stacy Smith — was 23 when she gave birth to Eden Rose on March 16, 2004, at Riverside's Parkview Community Hospital.
Shortly after the little girl turned three, Cronin, a single mom, struggled to find out what was wrong when Eden began vomiting at least three times a week.
The vomiting started when they were moving out after living with a friend's family. Cronin thought it was stress.
A doctor told Cronin it was acid reflux and prescribed medicine. The problem seemed to go away. But Eden sometimes vomited while riding in a car or playing hard, so Cronin thought her daughter had motion sickness.
Over those same eight months, the girl had three headaches that were so bad she'd hit her head near one of her ears with her hand.
"I remember one night when she woke up in the middle of the night and she was banging her head and screaming," Cronin said.
The doctor said Eden had an ear infection and prescribed antibiotics. The headaches seemed to last only a few minutes. She took her daughter to the doctor about five times for vomiting and headaches, but no one — not even Cronin — suspected what was really wrong.
Caught just in time
Cronin and her daughter spent that Thanksgiving, which fell on Nov. 22, at her grandparents' home in a senior trailer park in Riverside.
The 3-year-old was so tired she slept through half of dinner on the couch. The adults, including Cronin's mother, talked about how tired Eden was and how thin she had gotten.
"We all kind of knew there was something wrong," she said.
While working as a waitress at Killarney's Restaurant and Irish Pub that Saturday, Cronin told someone for the first time that she was worried her daughter had cancer.
She took Eden to Parkview's emergency room the next morning. After eight hours, the medical staff said the toddler was probably having another case of acid reflux and tried to send them home. This time, Cronin wasn't leaving.
She pleaded with a compassionate male nurse to do something. Eden woke up and said the room was spinning. The nurse had the girl admitted and a CT scan was ordered the next morning. An MRI was done immediately after.
Cronin's mother held one of her hands and her stepmother held the other when doctors told them that evening Eden had a brain tumor. Cronin cried.
She didn't know then just how high the risk was for Eden.
The child was transferred to Children's Hospital of Orange County and put under the care of neurosurgeon Dr. Mike Muhonen. Over five hours in Nov. 27, he removed a golf ball-sized tumor known as an ependymoma in hundreds of little pieces from the base of the girl's skull where it had been pushing into her brain stem.
Eden was so young, Muhonen believes she probably was born with the tumor. The malignant cancerous growth was causing hydrocephalus, making fluid build up on her brain. If the tumor hadn't been detected and removed, Eden wouldn't have lived much longer.
"She was very close to death," he said by phone Monday. "It would have been a matter of weeks and she would have died."
Today is Eden Day
Eden underwent one more surgery to stop cerebrospinal fluid from leaking out of a membrane or sack around the brain and 33 radiation treatments completed not too long before her fourth birthday.
She doesn't remember the surgery. But she's got the scars and may be unable to have children because of the radiation that was intended to kill any residual cancer cells.
In 2008, Thanksgiving fell on Nov. 27, and mother and daughter celebrated the first  "Eden Day" by going to Disneyland and staying at the Disneyland Hotel.
They've spent every Nov. 27 doing whatever Eden wants: getting her nails done and buying makeup one year, visiting the Huntington Library, Art Collections and Botanical Gardens another.
Shortly before Eden's fifth birthday, Cronin got "Eden" and "Rose" tattooed across her fingers. She later had her chest tattooed with "Believe" and a rose on either side.
Eden is now 10. She's into art, crafts and nature. She likes to draw, experiment with making doll clothes and collect rocks, feathers and other things she discovers in the wild.
This year, they'll celebrate Thanksgiving as a new family of four. Stacy Cronin and her husband, David Cronin, celebrated the birth of Eden's little sister, Niamh ("Neeve"), two months ago, said Stacy Cronin, who sat on the couch holding the sleeping baby and helping Eden with her spelling.
Five years of tests showed Eden was cancer-free. Muhonen said that means a high chance she's been cured. He also said Eden and her mother remain close to his heart.
"I'm optimistic that Eden is going to live a normal life — a happy young girl that will hopefully go off to college and get married some day," he said.
Today, Stacy Cronin will kiss and hug her daughter a lot. And just stare at her.
"I just look at her and think about how amazing she is," Cronin said.
Contact the writer: 951-368-9444 or shurt@pe.com