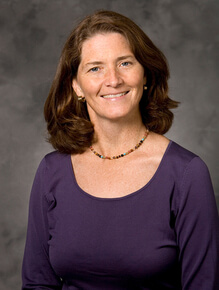 Following a national search, the University of California, Irvine School of Medicine and CHOC Children's have jointly announced that Coleen Cunningham, MD, a renowned professor of pediatrics and pathology from Duke University, has accepted a dual appointment position as both the chair for the UCI Department of Pediatrics and as senior vice president and pediatrician-in-chief for CHOC.  Her appointment is effective March 1, 2021.
In this unique, dual role, Dr. Cunningham will be responsible for leading UCI's Department of Pediatrics and its 16 divisions that span the spectrum of diseases and disorders.  She is charged with bringing real-world academics, scientists and clinicians together to collaborate and uncover new knowledge through research, and effectively apply that knowledge to advance children's health.
As CHOC's senior vice president and pediatrician-in-chief (PIC), Dr. Cunningham will serve as a senior clinical leader with oversight responsibility for the healthcare system's vast pediatric medical and surgical services, academic advancement, research and teaching programs, as well as become the key physician executive liaison between CHOC and UCI.
"Dr. Cunningham's broad medical experience, advanced research expertise and extraordinary leadership capabilities in the field of children's health will be transformative to Orange County and the communities that CHOC and UCI serve," said CHOC's President and CEO Kimberley Chavalas Cripe. "Combining the clinical, research and academic expertise of UCI and CHOC will not only advance the pediatric care of children in the region, but also advance the education and training of the next generation of pediatric experts through a fully integrated program that leverages a top tier children's health system with a top tier academic health system."
Balancing the tripartite mission of UCI School of Medicine – Discover. Teach. Heal. – Dr. Cunningham will drive research, educational and clinical excellence, while helping further CHOC's mission to nurture, advance and protect the health and well-being of children. In her role, she will ensure full integration of research and academic priorities across the continuum of care at both CHOC and UCI's pediatric programs.
"Dr. Cunningham is a nationally-recognized scholar and forward-thinking leader, with a distinguished record of achievement in research, education and clinical care," said Michael J. Stamos, MD, dean of the UCI School of Medicine.  "We are confident in her ability to lead our organizations.  Hers is a great story of achievement and we are honored to have her join us."
Dr. Cunningham joins UCI and CHOC from Duke University where she served as professor with tenure in the Division of Pediatric Infectious Diseases and as chief of Global Health and vice chair for research in the Department of Pediatrics.  She was chief of Pediatric Infectious Diseases until 2015 when she stepped down to focus on her vice-chair responsibilities. She holds secondary appointments in the Department of Pathology at Duke and the Duke Global Health Institute.
Dr. Cunningham earned her medical degree from the State University of New York Upstate Medical University in Syracuse, NY, where she also did her residency in pediatrics and a fellowship in pediatric infectious diseases.  At SUNY, she served as an associate professor of pediatrics and started a pediatric HIV clinic.
Her work on HIV and AIDS in children has been recognized numerous times, as has her work on H1N1 influenza. Most recently, Dr. Cunningham was awarded the Denny, Katz, Simon, Tingelstad Academic Service Award from the American Academy of Pediatrics.  She also recently received the Translational Research Mentoring Award from Duke University Medical Center and was selected for participation in the Executive Leadership in Academic Medicine (ELAM) program.
Dr. Cunningham has published more than 120 manuscripts and led many multicenter clinical trials aimed at the treatment and prevention of HIV infection in children.  She has obtained several competitive research funding awards and served on National Institutes of Health and other grant reviews.  She has also done extensive work as an educator, teaching students at all levels, from undergraduate to fellows, focusing on training Pediatric Infectious Diseases Physician Scientists.