From www.ocfamily.com
By Jessica Peralta, OC Family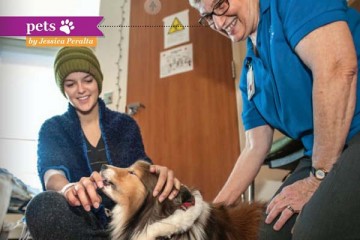 Molly helps out anyone at Children's Hospital of Orange County needing support. She might ride the CT scan to show children not to be afraid and will sometimes serve as a distraction during things like IV placements. She's even been around for those difficult moments such as last rites. She'll do whatever's required of her, but mostly she just snuggles.
"She just loves to give love," says CHOC pet therapy volunteer Katie Mundia of her 20-pound Maltipoo, a pet therapy dog certified through Pet Partners.
Mundia recalled a visit with a child when she gave Molly her release command, which meant they were leaving. But Molly stayed put and placed her head on the child's shoulder. Suddenly, the child had a light seizure. Once the seizure had passed and the child had petted Molly some more, Molly stood up, ready to go.
"She just knows what to do," Mundia said.
It's likely no big surprise to pet lovers that animals can have a stress-reducing and mood-elevating effect and help kids with a variety of conditions and diseases, from autism to cancer. Thanks to organizations such as Pet Partners and Canine Companions for Independence, pets' natural soothing abilities can be taken a step further and utilized in actual therapy and service. Animals can be trained for a variety of jobs — from visiting facilities like CHOC for emotional support to helping out with speech therapy to being full-on service dogs that perform a multitude of tasks for those with disabilities. Regardless of their level of training, they all have one thing in common: the smiles they inspire from those they help.
When Lexi Padilla of San Clemente and her son, Dylan, 12, graduated from Canine Companions for Independence with their skilled companion dog, Ode, in 2013, they brought home a trained canine that knew 50 high-level commands, including opening and closing doors and a snuggle command.
But even more essential, they brought home a true companion for Dylan, who has autism. "She's very in tune with him," Padilla says of the Labrador-golden retriever hybrid.
In addition to companionship, Ode is a regular part of Dylan's therapy, including working with his language, sensory and social skills, and improving his ability to manage disruptive emotions and impulses. When Dylan has a tantrum or outburst, it's difficult for him to self- regulate. Now that Ode is around, Dylan has her to pet or play with as a break from his emotions. "He's learning that self-regulation piece without even knowing he's learning it," Padilla says.
In public, Ode calms Dylan's social anxiety and attracts other children, enabling Dylan to interact more with his peers.
"He gets to practice all of those skills we try to teach in therapy," she says.
Tom Tackett, president of Tackett Service Dogs Inc. in Orange, which trains service dogs for children with autism, says these dogs can have a very calming effect.
"It really settles them," he says. "Kids with autism often like to have pressure on their body. … So the dog will come and lay on them."
Meredith Reuter, therapy dog handler for the Animal Health Foundation in Lake Forest, became part of the Reading Education Assistance Dogs program with her dog, Reba, a miniature Australian shepherd, after two of her children were diagnosed with dyslexia and she saw the benefits that reading to a dog could have on children.
"I have seen children who have little confidence reading — in some situations if English is their second language or if they struggle to read, they feel comfortable reading to a dog while they pet or sit next to the dog. The dog does not judge if they don't read a word correctly. It can help them improve their reading and communication skills and also teach them to love books and reading," Reuter says.
Speech-language pathologist Jennifer Yost received Labrador-golden retriever Pita from Canine Companions for Independence in 2014 to help her work with children 18 months to 13 years old at Children's Learning Connection in Orange for conditions ranging from autism to developmental delays and phonological disorders. Pita knows 50 commands, including an impressive one, "Jenga," which instructs the dog to pull out a Jenga block. She can also turn pages of a book with her nose and "draw" by holding a marker in her mouth.
Pita is also great at comforting. "She will often approach a crying child and nudge them or put her head in their lap, which brings a smile to their face and allows us to continue the session," Yost says.