From The New York Times
By Jan Hoffman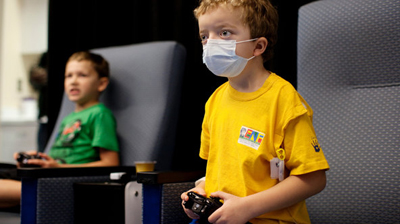 Orange, Calif. — Nick Meza, 18, recently had another five-day round of chemotherapy at the outpatient clinic here at Children's Hospital of Orange County. Usually those days drag for Nick, an Eagle Scout with a flashing grin, a hunger for conversation, and acute lymphoblastic leukemia.
Like most patients who get intravenous medication at a pediatric clinic, Nick typically receives treatment in a small, curtained cubicle with hospital-green walls, outdated video games that are often broken, tiny TV monitors, and dividers that don't muffle hallway clatter or the wails of a child in the next cubicle.
But now Nick, whose baseball cap doesn't disguise his gleaming bald head, emerges from his cubicle, holding his IV pole. He saunters down the hall toward velvety black curtains. Parting them, he slips inside and eases into a reclining chair.
Adrenalized thumping music fills the makeshift space, called the Infusionarium. Roiling close-ups of extreme sports spring across four high-definition monitors, each five-feet tall: skateboarding stunts, parachute-skiing, kayaking over waterfalls.
Nick is entranced. After a while there's a beep on his IV: The infusion is finished. He is oblivious. "That's crazy!" Nick shouts at racecars careening across the monitors. "This is awesome!"
According to the National Cancer Institute, nearly 16,000 new cases of cancer will have been diagnosed this year in infants and children up to 19 years old. On any given day, thousands of these young patients are receiving chemotherapy at outpatient infusion clinics. Children are also treated with infusions for other illnesses, including Crohn's disease, juvenile rheumatoid arthritis, sickle cell anemia and immune disorders.
Particularly for a child, such visits can be among the most physically and emotionally exhausting of a grueling regimen that can go on for years. After needles are inserted, children are tethered to a pole and bags of fluid for up to eight hours, fear, loneliness and anxiety seeping into their bodies.
More profoundly, such visits are insistent reminders that they are sick and "different," not like friends they may have just seen the day before at school.
The long-term impact can leave some patients with post-traumatic stress. "It can be horrific," said Dr. Leonard Sender, medical director of the Hyundai Cancer Institute at the children's hospital here. "We should be doing better psychosocial work with them throughout their cancer experience, so they don't feel like victims."
Now, as five-year survival rates for some pediatric cancers climb to 90 percent, medical teams are paying more attention to making outpatient treatment less formidable and more responsive to the patient's psychological needs.
That's no small challenge when patients at a pediatric clinic range in age from newborn to 25 years old.
To calm and distract them, researchers have tried aromatherapy, teaching patients self-hypnosis, having them make music CDs, and giving them candy before medication.
Some clinics are being redesigned to encourage patients, especially reclusive teenagers, to be more social. The infusion clinic at Cook Children's Medical Center in Fort Worth, Tex., now includes play areas for younger children and long tables for teenagers to do their homework and watch TV together.
If teenagers want to document their cancer treatment, the Dana-Farber/Boston Children's Cancer and Blood Disorders Center gives them cameras to use. Its outpatient infusion clinic, which reopened this fall, features a large, light-filled space with activity tables and clusters of treatment chairs..
"We want to make sure they don't lose their childhood," said Lisa Scherber, director of patient and family programs. "The teenagers can stay together but they can also enjoy watching the 4-year-olds do silly stuff. We intended the space to help them feel, 'I'm not alone in this.' "
Treated Like Children
The Infusionarium is the Children's Hospital of Orange County's latest effort to normalize the arduous visits.
Dr. Sender had long wanted patients to have some positive associations with treatment, to feel "more complete and whole." If he ever needed chemotherapy himself, he said, he would want to lose himself in a tranquil, enjoyable environment: "Could I get my infusion in an aquarium?"
He put the question to Roger Holzberg, a former creative director and vice president at Disney Imagineering, and also a former cancer patient.
In July, Mr. Holzberg installed the Infusionarium (infusion + aquarium).
Its black curtains invite patients to peek inside, where pinlights woven into the fabric twinkle like starlight. With the communal feeling of a cozy theater, it has room for four treatment chairs and seating for visitors — an ad hoc area intended to make a permanent difference. It offers patients a menu of age-appropriate selections, allowing them to be happily distracted, engage with one another, or connect with friends and family. The treatment chairs provide access to five broadcast channels, including social media (allowing patients to Skype, check Facebook), video games and movies.
To refine the Infusionarium's offerings, Mr. Holzberg interviewed patients. Younger boys, he found, preferred the Gene Wilder version of "Willy Wonka and the Chocolate Factory" over animated films like "Cars." Mr. Holzberg surmised that they wanted realistic entryways into an escapist world. "The live action helps connect them to real emotions," he said. Some teenage boys, however, wanted their escape in extreme sports.
Conversely, the younger girls' choice? "Frozen," hands down.
Dr. Sender and Mr. Holzberg also asked patients, "If you could be treated anywhere but a hospital, where would it be?"
In the sky, soaring like a bird, some replied. Underwater, said others. So the Infusionarium offers sensory, immersive selections like "The Living Sea."
The Infusionarium, which cost about $100,000, has another transporting feature: live feeds. Recently, young patients with IV poles and their relatives crowded into the space for a talk with staff at the Monterey Bay Aquarium, some 350 miles north.
A nurse-manager, Allison Langdon, distributed questions for the children to ask aquarium guides.
"This is to help the kids get started," Ms. Langdon said. "Most of them haven't been in school for quite a while."
As sea otters gamboled on one monitor, a 6-year-old receiving chemotherapy for a kidney tumor was too shy to read her question. She handed it to Nick, who smiled and read it aloud.
Driven by Distraction
Technology is not the only way the center engages patients. Like most pediatric hospitals, it employs therapists known as "child life specialists." Christy Campo's tools include a soothing voice, as well as finger paints, crayons and Scrabble. When a sick child is having a bad day, Ms. Campo and the patient may draw an archery-style target on a whiteboard, label each circle with a complaint, and then, with water-filled syringes, take gleeful aim.
But such activities may not work for teenagers and young adults. Robert B. Noll, a psychologist who is chairman of the behavioral science committee of the Children's Oncology Group, a national consortium, noted that cancer confounds normal adolescent development, when "part of your mission is to go off and do stupid things," he said. "But instead, 'Now I need my mom and dad.' "
If technology, such as that used in the Infusionarium, can be harnessed to help teenagers express themselves, he said, he is all for it.
But like all teenagers, these patients both want to assert their individuality and long to be just like everyone else. The Infusionarium gives them a cool place to hang out with one another.
"We want to help them realize they're all struggling with the same issues," said Dr. Heather Hawthorne, an oncologist at the Orange County hospital. "If you can improve that, you can improve their whole cancer treatment. You take kids who would have crumbled and fallen to their disease and, instead, helped them use it to become strong, resilient people. "
Some adolescent patients intuitively seize the opportunity to become role models. Nick Meza made 39 lap desks for sick children to use as crafts tables, finally earning his Eagle Scout rank. When there are no teenagers in the Infusionarium, he teaches younger patients how to sharpen their Xbox skills.
Anecdotally, staff members here have noted that patients who use the Infusionarium ask for less medication for nausea, anxiety and diarrhea. The hospital is conducting a randomized trial to see whether the facility's distractions have a measurable impact.
"Symptoms can be subjective," Dr. Hawthorne said. "For some, the anxiety of coming here is so strong that the patients get very worked up. They may label it nausea whether they have it or not."
Fighting Together
Because of the Infusionarium's growing popularity, traffic jams build, as patients with competing interests, from teenagers to "the littles" (the nurses' affectionate nickname for the youngest ones), clamor to use it.
On a recent afternoon, it was finally Matthew Cobb's turn. He had been waiting since 8:30 a.m.
Matthew, 7, has a rare genetic disorder that has required 20 operations so far. Because he has no resistance to infection, every three weeks he needs a six-hour protective infusion.
Matthew used to sob on nights before treatment, said his father, Kenneth Cobb. The boy didn't want his siblings to accompany him. He hated the cramped cubicle.
Now Matthew looks forward to treatment.
Matthew and his brother, Micah, 8, ran into the Infusionarium, grabbing controls for an Xbox game. The boys whooped, as Matthew, mask over mouth, bounded around the treatment chairs, an IV pole wobbling in his wake.
"Micah makes sure he finishes his homework, so he can come with Matthew on infusion days," Mr. Cobb said.
Eventually Matthew's IV stand beeped. The infusion had ended.
A nurse glided in to disconnect the IV. "If you can't stay still, Matthew," she said, "I'll have to press 'pause.' "
"One more level, Dad?" Matthew asked.
Mr. Cobb smiled.
"When they play Xbox in the Infusionarium, it's brother time," he said. "Matthew and Micah are always on a team together, fighting against the same villain."