By Landon Hall, Orange County Register/Coast Magazine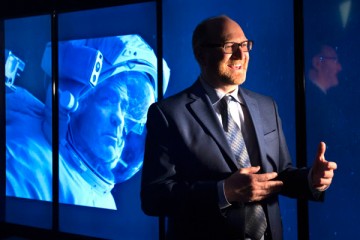 When Dr. Leonard S. Sender says the future belongs to the young, he's not just speaking in greeting-card platitudes.
As an oncologist and the medical director of the Hyundai Cancer Institute at CHOC Children's, Sender knows how heartbreaking it is to see children stricken with cancer and fighting for their lives.
And yet he has dedicated his career to helping older young people — those who are no longer kids, really, and just on the cusp of adulthood.
"The teenager's not as cute, necessarily, anymore," he said. "But they are so in need, because it's that normal age of rebellion. They're breaking away from their parents. I always find them to be fascinating. … I think the future of the world is based on teenagers and young adults. I think, 'Why not help them more, and understand what they're going through?' And I think we owe it to them to do it. If you cure someone who's in a young age group, it has the greatest return on the number of life-years that are added to that patient, and to society."
Sender, 56, was born in South Africa, and his father was a physician who treated patients at the family home. "I was always exposed to medicine, 24 hour a day," Sender says. Growing up in a Jewish home, he loved the tradition on the first night of Passover when the youngest child got to ask the Four Questions about the holiday.
"Often some of the smartest people int he room are the young people," he said. "I've noticed in medicine that young people were never given the time of day, and that most people talk to adults in the room and don't care about what the kid wants. And I realized early in my training that that was wrong. So I got really adamant that I wanted empowered patients. I love the young adult or teenager who questions me, keeps me on my toes."
This core of optimism served him when he gravitated to specializing in cancer, which he views as "evolution gone wrong," a Darwinian adaptation that can be studied, and ultimately, defeated.
Sender has long believed that the human genome holds the secrets to locating the pathways within the body where cancers form and flourish. At CHOC, Sender is building an extensive "bio-bank" of tissue samples to be analyzed. The hope is that clues will emerge and that drugs can be created to specifically target an individual tumor.
"The cure of pediatric cancer is actually right in our grasp, and we've never had a better time," he said. "The tools are there. We've just got to put our effort to it. … It's only money. How do we say to people, 'Kids are dying because we just didn't put enough effort into it?'"