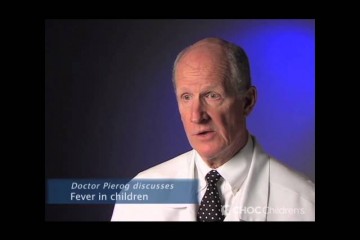 CHOC Children's emergency medicine specialist Dr. James Pierog will again appear as an expert on the highly rated award-winning healthcare television program American Health Journal on PBS SoCal TV on Sunday, January 11, at 5:00 p.m.  He will discuss the topic of fevers in children.
This segment can also be viewed on the CHOC Docs Blog.
Dr. Pierog is an emergency medicine specialist, board certified in emergency medicine and pediatric emergency medicine.  Dr. Pierog is the medical director of emergency medical services at CHOC Children's.  He attended medical school at the University of California, Los Angeles.  He completed an internship in internal medicine and his residency in emergency medicine at the University of Southern California, Los Angeles County Medical Center.  Dr. Pierog served in the United State Army, achieving the rank of captain as a general medical officer.
The recipient of more than 90 national and international awards, including 15 Telly Awards, American Health Journal airs on PBS and other national network affiliates that reach more than 30 million households. Each 30-minute episode features six segments with a diverse range of medical specialists discussing a full spectrum of health topics. For more information, visit www.discoverhealth.tv