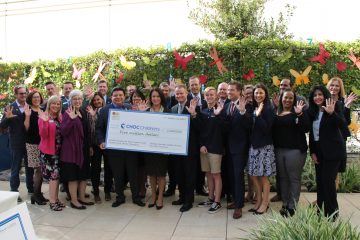 Credit Unions for Kids, a nonprofit collaboration of credit unions and credit union partners engaged in fundraising activities for Children's Miracle Network Hospitals, recently announced a commitment to raise $5 million in five years for CHOC Children's. In recognition of the pledge and history of support, CHOC is naming a new space the Credit Unions for Kids Community Engagement Center.
Located in the CHOC Children's Foundation office, set to open in January 2019, the center will accommodate approximately 80 people for lectures, meetings, training programs and receptions.  It will feature state-of-the-art audiovisual and conferencing technologies, and moveable furnishings to support multiple room configurations. The center is designed to promote collaboration among community leaders, physicians, staff, donors and volunteers.
"As our main hospital campus continues to expand patient care, the need for a centralized gathering place for strategic meetings, teaching conferences and more has become essential," explains Doug Corbin, vice president and chief development officer at the CHOC Foundation. "The Credit Unions for Kids Community Engagement Center will be an inspiring space that will allow hospital, community and business leaders to come together with a united purpose of advancing pediatric healthcare in our community. We are grateful to our local credit union partners for their recent pledge and for more than a decade of support."
Since 2007, when CHOC became a Children's Miracle Network Hospital, Credit Unions for Kids partners in Orange County have donated more than $4.1 million to the pediatric healthcare system.  By pledging to raise $1 million each year over the next five years, with 100 percent of the proceeds being donated to CHOC, Credit Unions for Kids looks to create hope and healthier futures for children and their families in the community.
"Partnering with Credit Unions for Kids was a seamless fit for Orange County's Credit Union, as we, along with CHOC, are deeply committed members of the community that share a common commitment to caring about our people," said Shruti Miyashiro, president and CEO of Orange County's Credit Union and chair of The CHOC Foundation Board of Directors. "People from all over the world travel to CHOC searching for world-class care, and we believe it's our responsibility as community members to guarantee children thrive and see a healthier tomorrow."