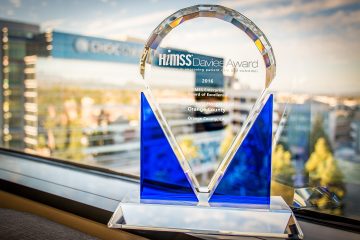 January 31, 2017 — Children's Hospital of Orange County (CHOC) was named a 2016 Healthcare Information and Management Systems Society (HIMSS) Enterprise Davies Award recipient for achieving improvements in patient care through the use of health information technology. CHOC is the only children's hospital on the West Coast— and third in the country— to be honored with the award since its inception.
Since 1994, the HIMSS Nicholas E. Davies Award of Excellence has recognized the outstanding achievements of organizations that use health information technology to improve patient care while achieving cost savings. As an award recipient, CHOC will share case studies and lessons learned with other health care organizations across the nation.
"CHOC has made significant investments in health information technology designed to enhance quality and patient safety – our highest priorities.  We designed and implemented our electronic health record (EHR) with a focus on improving care.  Because building and using an effective EHR is not always easy, and is certainly expensive, it's gratifying to see measurable improvement from our efforts and investments.  Making kids' care better— making kids' lives better—is the ultimate outcome, and proves the value," says Dr. James Cappon, chief quality officer, CHOC.
CHOC received the award from HIMSS based on four case studies that detailed how the use of health information technology and standardized clinical processes has improved patient care. The case studies included:
Through education, a standardized care bundle, and EHR-enabled best practice guidance to minimize urinary catheter use and duration, CHOC significantly reduced catheter-associated infections and urinary catheter use.
Using embedded, evidence-based care guidelines to control asthma and an alert system that triggered when patients were about to be discharged before a home management plan was created, CHOC drove down the average length of stay for asthma patients from 2.14 days to 1.72 days. Asthma readmissions within 30 days also fell from an average of 1.7 per quarter to 0.7 per quarter.
CHOC implemented an EHR-enabled Pediatric Early Warning System (PEWS) to trigger a rapid response team for deteriorating patients. As result, approximately 369 children have avoided resuscitation, with potentially as many lives saved.
CHOC implemented centralized breast milk preparation including barcoding to effectively eliminate feedings of the wrong breast milk. Efficiencies associated with the centralized processes for breast milk preparation resulted in significant annual savings.
"CHOC demonstrates an enterprise-wide approach to collaboratively identifying clinical challenges, selecting IT interventions and developing workflows to address those challenges," said Jonathan French, senior director of quality and patient safety and Davies program director with HIMSS. "Through using information technology to standardize care and continually look to improve care delivery and outcomes, CHOC has significantly improved the quality and patient safety outcomes for their patients. HIMSS is proud to recognize CHOC as a 2016 Davies Enterprise Award winner."
Named one of the best children's hospitals by U.S. News & World Report (2016-17) and a 2016 Leapfrog Top Hospital for safe, quality care, CHOC has achieved recognition as a HIMSS Stage 7 EMR (electronic medical record) adoption hospital. CHOC is also a leader in the adoption of population health technologies, and is a recipient of a $17.7 million grant from the Centers for Medicare & Medicaid to help Southern California pediatricians expand their quality improvement capacity, learn from one another and achieve common goals of improved care.
"These examples of our institutional quality and safety initiatives are an important part of our mission to nurture, advance and protect the health and well-being of children.  As we now reach out to the larger community with our population health efforts, our focus extends to keeping well children well,  in addition to keeping those who are ill as well as they are able to be," explains Dr. William Feaster, chief medical information officer, CHOC.
CHOC will be recognized as a HIMSS Davies Award recipient at the 2017 HIMSS Conference & Exhibition, Feb. 19-23, in Orlando, Fla.  For more information on the awards program, visit the HIMSS Davies Award website.