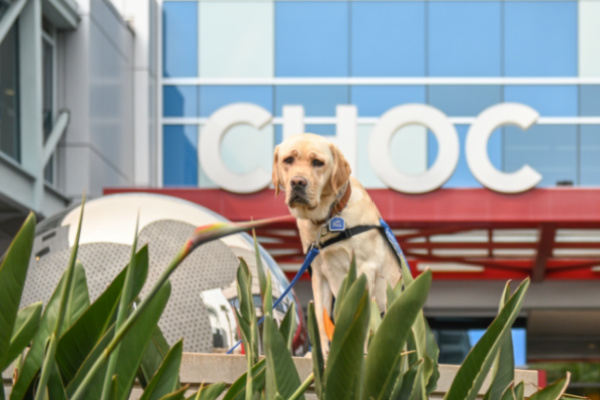 One of the newest members of the CHOC family is blond with deep, soulful eyes – and has four legs and loves belly rubs.
Please join us in welcoming Lois, CHOC's very first resident dog.
The Labrador-golden retriever mix is now heeling – and healing – in the halls at CHOC's main hospital campus in Orange with her handler, Child Life Specialist Chloe Krikac.
Together, they work to help young patients reach specific, individualized clinical goals.
For example, Lois and Chloe might help normalize a child's hospital experience by making the environment feel more like home; motivate patients by making goals like taking a walk or medicine more fun; offer a fun distraction during a procedure or painful moment; and, of course, offer a sense of unconditional love and acceptance.
In fact, research shows that resident dogs can have many positive impacts in clinical environments. They can help:
reduce stress and anxiety;
enhance calm and security;
ease perception of pain;
decrease fear;
increase oxytocin (a hormone that produces feelings of warmth and happiness);
decrease cortisol (a hormone produced during times of stress);
lower heart rate and blood pressure;
improve mood and morale; and
build trust and secure attachments.
"I am so thrilled to be working with Lois to help our patients reach their goals," says Chloe, who works in the Cherese Mari Laulhere Child Life Department at CHOC. "Our resident dog program is a new addition to CHOC's robust toolkit to support patients. There isn't anything much better than seeing a child connect with Lois, while also reaching a new clinical milestone, finding comfort and peace, or even just smiling after a tough day."
Made possible through generous funding
Lois was matched with CHOC through Canine Companions for Independence, a nonprofit organization that trains both individual service dogs for people with disabilities and resident dogs free of charge.
Lois' arrival at the hospital was made possible through founding support from the Dunkin' Joy in Childhood Foundation Dogs for Joy Program, and additional support from PetSmart Charities, Pastime with Purpose and several other generous donors.
"We're just so grateful to all of our generous donors for helping us bring Lois to CHOC," Chloe says. "They are active partners in helping us meet our mission to nurture, advance and protect the health and well-being of children in Orange County and beyond."
Says Parag Patel, California Dunkin' franchisee: "The Dunkin' Joy in Childhood Foundation is thrilled to support CHOC in welcoming Lois. Through our Dogs for Joy program, we have seen the transformational impact of animal-assisted therapy and we are proud to help bring comfort and joy to pediatric patients and their families."
"We're genuinely thrilled for the patients, family and staff at CHOC," said Kelly Balthazor, community grants manager at PetSmart Charities. "In recent years, care teams have increasingly integrated animal-assisted therapy into treatment plans. When children cope with pain, stress and grueling recoveries, a visit from a specially trained dog like Lois can motivate them to move. And that helps kids heal faster and better. We can't wait to hear the stories about the impact she makes!"
Born to help kids
Born in November 2018, Lois underwent a two-year extensive and specialized training program with Canine Companions for Independence, and knows more than 40 commands. In turn, Chloe, her handler, also underwent a matching process and a two-week intensive training program with written and practical exams.
Including resident dogs in the range of therapeutic services is a trend in children's hospitals, and resident dogs have specific tasks that support clinical goals. Across children's hospitals, full-time handlers are often social workers, chaplains, physicians and child life specialists – like at CHOC.
Chloe brings Lois to campus Monday through Friday, and brings her back home after the workday ends and on the weekends. In her spare time, Lois enjoys swimming, park strolls and playing with toys. (Chloe likes to travel, cook and garden in her spare time.)
Meeting the family
In addition to patients, Lois has also brought cheer to the CHOC hospital staff – an especially welcomed treat during the pandemic.
She made her recent debut at the hospital during a special "Dogs and Donuts" event, where staff could come meet Lois in a socially distanced environment and grab a doughnut provided by Dunkin'. Staff working remotely and in other CHOC locations were able to participate virtually.
Extra special guests at "Dogs and Donuts" included human and canine members of CHOC's longtime pet therapy program, who until then had been on hiatus due to the pandemic.
Since its establishment in 2005, CHOC's pet therapy program has brought many smiles to patients, families and staff.
Therapy dogs are pets of volunteers trained to bring comfort and positive experiences to patients. These dogs have passed an obedience test and have permission to enter a facility to provide comfort to patients at the bedside. All participants at CHOC come from Pet Partners, an organization that trains and certifies therapy dogs.
Learn more about the Cherese Mari Laulhere Child Life Department at CHOC.