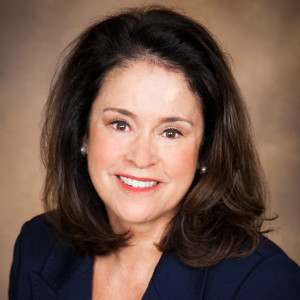 June 12, 2015 — EY announced CHOC Children's President and CEO Kimberly Chavalas Cripe a winner of the EY Entrepreneur of The Year® 2015 Award in the "Community Contribution" category for Orange County and Inland Empire. Cripe was honored on June 11 at a gala event attended by more than 500 business leaders and entrepreneurs.
Considered the world's most prestigious business award for entrepreneurs, the Entrepreneur of the Year awards program recognizes leaders who demonstrate excellence and extraordinary success in areas such as innovation, financial performance and commitment to their businesses and communities. In previous years, Entrepreneur of the Year has honored the inspirational leadership of such entrepreneurs as Howard Schultz of Starbucks Coffee Company, Pierre Omidyar of EBay, Inc. and Mindy Grossman of HSN.
Winning entrepreneurs were selected by an independent judging panel comprised of previous award winners, leading CEOs, private capital investors and other regional business leaders. Cripe joins an elite group of 2015 award recipients: Jeff Walker, CEO, Alliance Entertainment; Charles Dunlop, co-founder and CEO, and James Dunlop, co-founder and president, Ambry Genetics; Mike Mussallem, chairman and CEO, Edwards Lifesciences; Andrew Peykoff II, president and CEO, Niagara Bottling; Joe Duran, CEO, United Capital Financial Advisors; and Vernon Underwood, chairman, Young's Market Company.
Cripe was appointed the top leadership position at CHOC when the hospital was struggling with massive financial losses. Resolved to not only eliminate losses but invest in new services and infrastructure to deliver higher levels of excellence in pediatric medicine, Kim recruited a "best and brightest" executive team, augmented the roster of physician leaders with nationally known experts, rebuilt relationships with referring pediatricians, and created centers of excellence: CHOC Children's Heart, Neuroscience, Orthopaedic and Hyundai Cancer Institutes. CHOC's financial performance rebounded, ahead of forecasts, and the hospital regained market share to claim its position as the region's dominant pediatric provider.
With her eye always on the horizon, Cripe led CHOC in the construction of a new, 425,000-square-foot patient care tower. Opened in 2013 and housing highly complex services, as well as enhanced patient and family amenities, the tower stands as a beacon of excellence and innovation.
Most recently, Cripe embarked upon yet another ambitious and visionary initiative. Last month, she announced CHOC's commitment to create a pediatric system of care for children, teens and adolescents with mental illness. As part of this critical endeavor to address the alarming deficiency of pediatric mental health services, especially inpatient psychiatric beds, construction on CHOC Children's Mental Health Inpatient Center will begin this fall. The Center will provide a safe, nurturing place for children ages 3 to 18, in addition to specialty programming for children younger than 12. CHOC will also expand outpatient mental health services in support of the full pediatric system of care.
A tireless advocate for children's health, Cripe has served as a commissioner on the Children and Families Commission of Orange County since its inception in 1999, and was recently appointed on the board of directors of the national Children's Hospital Association. She also serves on the board of the California Children's Hospital Association. In recognition of her leadership in children's health care, Cripe was recognized in 1999 by the March of Dimes with the Mentor in Medicine Award, and was honored with a "Women in Business" Award in 2000. In 2001, the Forum for Corporate Directors in Orange County named her "Director of the Year." And, in 2012, she was named Orange County's "Most Trustworthy Leader."