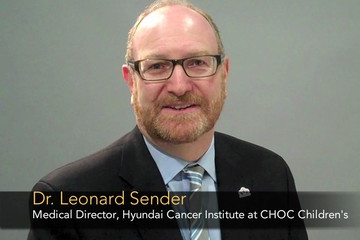 Caris Life Sciences®, a leading biotechnology company focused on fulfilling the promise of precision medicine, today announced the establishment of the Caris Centers of Excellence for Precision Medicine Network™ in Pediatric Cancers (Network), and designated Children's Hospital of Orange County (CHOC Children's) a center of excellence. Additionally, Leonard Sender, M.D., Medical Director at the Hyundai Cancer Institute at CHOC Children's, has been appointed Chairman of the Network and will lead the development of consensus tumor profiling guidelines and standards for pediatric cancers.
The Network will consist of leading pediatric-focused cancer centers that have demonstrated a commitment to precision medicine and will work collaboratively to advance the delivery of molecular profiling, as well as establish standards-of-care for tumor profiling in pediatric oncology. The Network will leverage Caris' multiple‐technology tumor profiling service, Caris Molecular Intelligence®, to educate the pediatric oncology community on the adult experience in the practice of precision medicine, to advance research and clinical trials, and to help guide therapy decisions and identify clinical trial opportunities based on each patient's unique cancer biology.
"As an adult oncologist, I find treating pediatric cancers particularly challenging, not only due to their rare and aggressive nature but also due to the emotional aspects of helping children and their families fight cancer," commented Sandeep K. Reddy, M.D., Chief Medical Officer for Caris Life Sciences. "We are excited to be working closely with CHOC Children's and Dr. Sender to further enable the delivery of precision medicine through tumor profiling and improve treatment outcomes for pediatric cancer patients."
As Chairman of the Network, Dr. Sender will lead the development of guidelines and standards for tumor profiling in pediatric cancers, draft research protocols using tumor profiling to help guide therapy decisions, and establish a collaborative forum for sharing best-practices, profiling implementation strategies and case evaluations for Network members.
Dr. Sender will draw upon the virtual pediatric network (VPN) he established at CHOC Children's and funded by CISCO. VPN takes the traditional tumor board to an unprecedented level by using CISCO's TelePresence video conferencing system to connect experts at various locations across the United States. Hospitals and oncologists, combining their expertise, work together to bring the best care to patients wherever they may live.
Under Dr. Sender's direction, the Hyundai Cancer Institute at CHOC has built a strong infrastructure that supports innovative genomic medicine techniques. Research has been focused on providing a better understanding of the disease and more effective treatment for children diagnosed with pediatric cancer.
"The era of precision medicine has arrived and we are in the midst of a fundamental shift in the way we diagnose and treat cancer patients. The establishment of this Network is a gateway towards creating tumor profiling standards and guidelines that will collectively help inform best-practices for the pediatric cancer community," said Dr. Sender. "I envision a healthcare environment where each pediatric cancer patient is profiled with the best technologies available to empower caregivers with valuable insights to make more informed treatment decisions and provide the best care for our precious children."
The Hyundai Cancer Institute at CHOC Children's specializes in providing patients—from infants through young adults—with the latest pediatric cancer treatments by nationally recognized medical specialists. In 2014, the Hyundai Cancer Institute was ranked among the top 40 hospitals in cancer treatment by U.S. News & World Report's Best Children's Hospitals rankings. As a Network member, the Hyundai Cancer Institute will lead and actively participate in the development of tumor profiling guidelines and standards, contribute to data sharing initiatives, and support a collaborative peer‐to‐peer forum for molecular information sharing across the Network.
In recent years, tumor profiling has become a valuable tool for oncologists when making treatment decisions for patients with difficult‐to‐treat and/or rare and aggressive cancers. Decoding molecular data from a tumor and combining that information with biomarker‐to‐drug associations from clinical and scientific cancer literature can provide personalized information to aid a physician in making difficult therapy decisions.
About Caris Life Sciences®
Caris Life Sciences® is a leading biotechnology company focused on fulfilling the promise of precision medicine through quality and innovation. Caris Molecular Intelligence®, the company's healthcare information and comprehensive tumor profiling service with more than 70,000 patients profiled, provides oncologists with the most potentially clinically actionable treatment options available to personalize cancer care today. Using a variety of advanced profiling technologies to assess relevant biological changes in each patient's tumor, Caris Molecular Intelligence connects biomarker data generated from a tumor with biomarker-drug associations supported by evidence in the relevant clinical literature. Since 2009, Caris has tracked clinical and outcome data for certain patients undergoing tumor molecular profiling, for which Caris has observed that patients treated with drugs consistent with their molecular profile show a significant increase in overall survival. The company is developing its Carisome® TOP™ technology, a revolutionary and proprietary blood-based platform for the development of novel therapeutics, drug delivery and drug target identification. The technology is also being developed for diagnosis, prognosis, and theranosis of cancer and other complex diseases. Headquartered in Irving, Texas, Caris Life Sciences offers services throughout Europe, the U.S., Australia and other international markets. To learn more, please visit www.CarisLifeSciences.com.