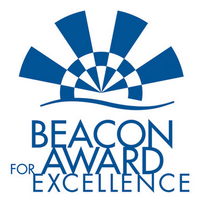 The pediatric intensive care unit (PICU) at CHOC Hospital has earned its fourth gold-level Beacon Award for Excellence from the American Association of Critical Care Nurses (AACN).  It is among just 12 units in the nation and only three in the state to earn this distinction, which signifies a commitment to the highest levels of patient care and safety.
The Beacon Award for Excellence recognizes individual intensive care units that successfully demonstrate patient outcomes and practices that align with AACN's six "Healthy Work Environment Standards." Units that achieve this three-year, three-level award with gold, silver or bronze designations meet national criteria consistent with Magnet Recognition, the Malcolm Baldrige National Quality Award, and the National Quality Healthcare Award.
CHOC's PICU earned a gold award, the highest designation, by meeting the following evidence-based criteria:
leadership structures and systems.
appropriate staffing and staff engagement.
effective communication, knowledge management, learning and development.
evidence-based practice and processes; and
outcome measurement.
"This award is further validation of our entire pediatric intensive care unit team's dedication to the highest standards of patient safety and care," says Melanie Patterson, RN, MHA, DNP, vice president, patient care services and chief nursing officer, CHOC. "We are entrusted with caring for some of the sickest and most medically fragile patients, and our goal is to deliver the best possible outcomes for them and their families."
CHOC's PICU staff provide intensive and acute care to critically ill surgical and medical pediatric patients in a family-centered care environment that encourages interaction between families and caregivers in peaceful, healing surroundings. Pediatric intensive care specialists are available in house at all times. CHOC has been recognized by Virtual Pediatric Systems (VPS), a national collaborative of over 200 ICUs, for having statistically significant lower mortality and shorter length of stay ratios when compared to a cohort of 19 similar PICUs.