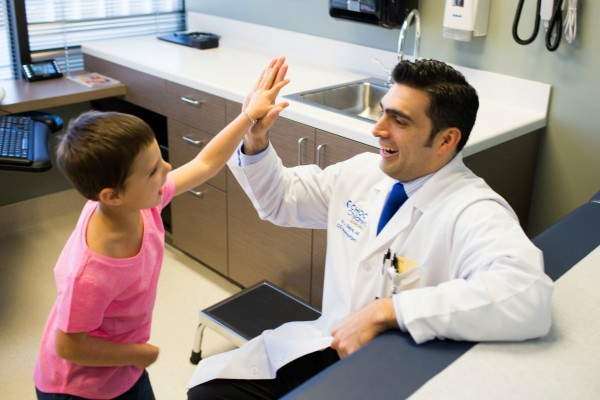 Oct. 21, 2015 — CHOC Children's, in partnership with Rady Children's Hospital – San Diego, has received a $17.7 million grant from the Centers for Medicare & Medicaid Services to help Southern California pediatricians expand their quality improvement capacity, learn from one another and achieve common goals of improved care, better health and reduced cost, the U.S. Department of Health and Human Services recently announced.
"The Transforming Clinical Practice Initiative complements CHOC's efforts to coordinate and streamline care delivery, evidenced by the recent formation of our pediatric system of care and division of population health. The award further strengthens our alliance with Rady Children's, formed in 2013 to capitalize on our experience and strengths to enhance the care delivered to families of Orange and San Diego counties, whose combined population of children younger than 18 is larger than that of 34 states," said CHOC President and CEO Kimberly Chavalas Cripe.
CHOC and Rady Children's are the only pediatric health systems among the 39 collaborative networks selected to participate in the Transforming Clinical Practice Initiative, which works to enable new levels of coordination, continuity, and integration of care. Working together, CHOC and Rady Children's will engage up to 1,450 pediatric primary care providers and specialists in Southern California to improve quality of care, while lowering cost, for six common conditions: asthma, bronchiolitis, community-acquired pneumonia, headaches, acute gastroenteritis and acne. These conditions often lead to unnecessary emergency department visits, hospitalizations, testing and specialist referrals. In addition, CHOC and Rady Children's will provide evidence-based clinical care pathways, culturally-sensitive care plans, strategies for improving access to and satisfaction with care, as well as additional support, training and technical assistance to providers in Orange and San Diego counties. The network is also intended to facilitate a mutually beneficial learning environment that supports providers and increases accountability for health care outcomes through a regional, interdependent health care system.
"We are very excited about this award to CHOC, and the opportunity for Rady Children's and CHOC Children's to join forces to impact the health of children throughout the southern region of California," said Donald B. Kearns, M.D., president and CEO of Rady Children's.
As part of a comprehensive strategy advanced by the Affordable Care Act, the Transforming Clinical Practice Initiative Awards provide selected networks with a total of $685 million to support clinicians delivering high-quality, patient-centered care across the country.
"The DHCS commends CHOC Children's and its partner Rady Children's on this award, which is important not only for the counties of Orange and San Diego, but also the State of California, as we all strive to transform and enhance our delivery systems for the benefit of the beneficiaries we serve. That CHOC Children's and Rady Children's serve so many of our most vulnerable children is an even more important reason to recognize this achievement," said Jennifer Kent, director of the California Department of Health Care Services.
"Supporting doctors and other health care professionals change the way they work is critical to improving quality and spending our health care dollars more wisely," said U.S. Health and Human Services Secretary Sylvia M. Burwell. "These awards will give patients more of the information they need to make informed decisions about their care and give clinicians access to information and support to improve care coordination and quality outcomes."