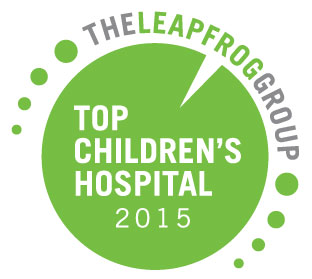 The Leapfrog Group has once again named CHOC Children's Hospital to its annual list of Top Hospitals, distinguishing CHOC's commitment to providing the safest, highest quality health care. CHOC is one of only 12 children's hospitals in the nation and only two in the state to earn the respected award.
The selection is based on results of The Leapfrog Group's annual hospital survey, which measures hospitals' performance on patient safety and quality, focusing on three critical areas: how patients fare, resource utilization and management structures established to prevent errors. Performance across many facets of hospital care, including survival rates for high-risk procedures and ability to prevent medication errors, is considered in establishing the qualifications for the award.
"Leapfrog's Top Hospital award is widely acknowledged as one of the most prestigious distinctions any hospital can achieve in the United States," said Leah Binder, president and CEO of The Leapfrog Group. "Top Hospitals have lower infection rates, better outcomes, decreased length of stay and fewer readmissions. By achieving Top Hospital status, CHOC has proven it prioritizes the safety of its patients, is committed to transparency, and provides exemplary care for children and families in Orange County. I congratulate the hospital's board, staff and clinicians whose efforts achieved these results."
The Top Hospital award is given to urban, rural and children's hospitals that publicly report their performance through the annual Leapfrog Hospital Survey, and meet the high standards defined in each year's methodology.
To see the full list of 2015 Top Hospital honorees, visit www.leapfroggroup.org/tophospitals.