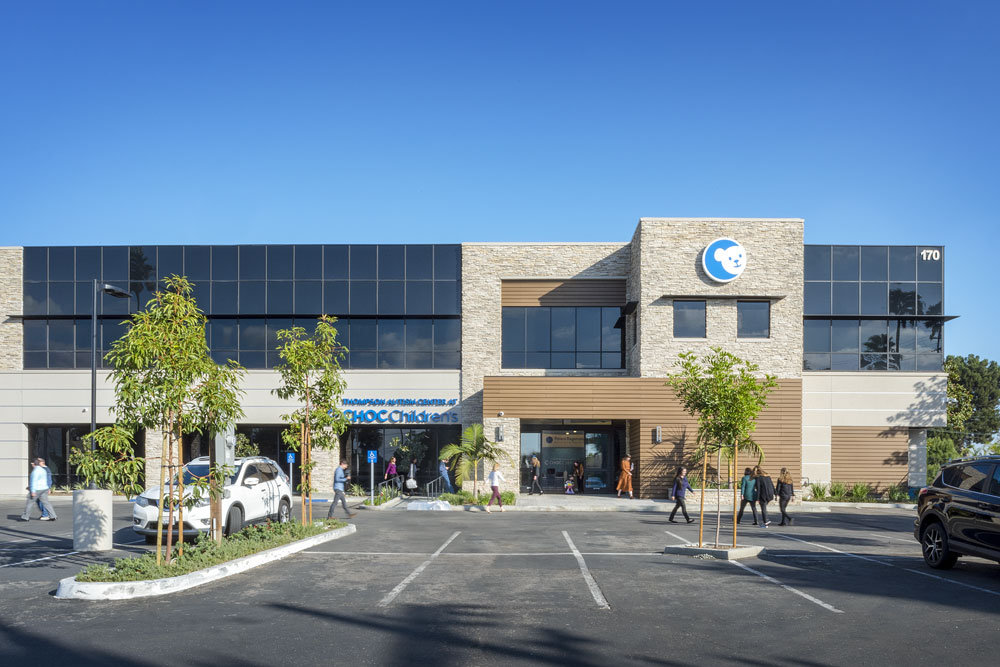 (ORANGE, Calif., Jan. 24, 2020) – CHOC Children's leaders, community supporters and other dignitaries today celebrated the completion of the Thompson Autism Center. The Center, which was named in honor of a $10 million founding gift from the William and Nancy Thompson Family Foundation, is intended to expand the region's capacity to serve the increasing number of children with autism spectrum disorder (ASD) and related neurodevelopmental conditions.
The growing prevalence of ASD is largely attributed to increased awareness and screening, and more comprehensive identification methodologies. While early diagnosis and intervention can be critical in delivering benefits that prove valuable throughout the lives of people with ASD, the mean age of diagnosis remains around age 4.
"We are proud that the Thompson Autism Center at CHOC Children's will help promote better lifetime outcomes by evaluating children with ASD earlier," CHOC President and CEO Kimberly Chavalas Cripe said. "The new Center incorporates innovative programs and care with state-of-the-art design."
Distinguishing the Center is its focus on three clinical care areas of highest need:
Early assessment to diagnose ASD, develop care plans and provide comprehensive services for at-risk children ages 1 to 6.
Multi-tiered intensive behavioral intervention consultation program for:

Children who are making insufficient progress in their current behavior treatment program, through partnerships with current provider agencies;
Children ages 4 to 12 who have difficulty with toilet training
Children who communicate through challenging behaviors such as moderate levels of aggression and severe self-injury, resulting in physical, emotional and social impacts on them, their parents and siblings.

Comprehensive, interdisciplinary clinical care for children with common co-occurring   conditions including epilepsy, sleep disorders, gastrointestinal issues and common mental and behavioral health concerns.
Through a partnership with Chapman University, the Thompson Autism Center will also help children with autism and their families navigate the education system, from preschool to college.
Additionally, the Center will also focus on bringing much needed clinical and behavioral intervention research aimed at improving the diagnosis, treatment and establishment of evidence-based best practices for patients with ASD and other neurodevelopmental disorders.
"We're looking at not only being able to make the earliest diagnosis, but also to provide a medical home for children with autism," said Dr. J. Thomas Megerian, pediatric neurologist and medical director of the Thompson Autism Center. "We're also here to provide support and education to parents, siblings and extended family members. Our goal is to help families celebrate the achievements their children can make when they reach for and attain their maximal potential. "
The 20,000-square foot Center is housed in a two-story former medical office building just blocks away from CHOC Children's Hospital and has been renovated to create a safe, nurturing and patient-focused environment.
The Center was designed by CannonDesign, a global design firm with deep experience in all types of pediatric health projects as well as national experience in planning and design for pediatric neuroscience, developmental medicine and ASD.
"The Thompson Autism Center is a remarkable project that afforded the opportunity to build a new space where evidence and supporting design solutions were derived almost entirely from primary sources: doctors, researchers and parents with connection to autism," said Don Lawrence, EDAC, ICGB, associate vice president, Blue Cottage of CannonDesign. "We are confident it will help children and their families in significant ways for generations."
The Center's first floor has specialized space for a challenging behavior unit, Adaptive Behavior Analysis (ABA) therapy, toilet training, occupational and speech therapy, as well as areas dedicated to care coordination, family resource consultation, education and telehealth consultation.
The second floor has modules for patient assessment and consultation, and clinical care spaces designed to promote coordination of care amongst specialists who evaluate and care for children with ASD and co-occurring conditions.
Each floor has several nooks and areas where children can go to reduce sensory overstimulation. The Center's color palette and artwork were chosen based on research suggesting which colors and themes – like family, socialization and safety – are more comforting for people with ASD.