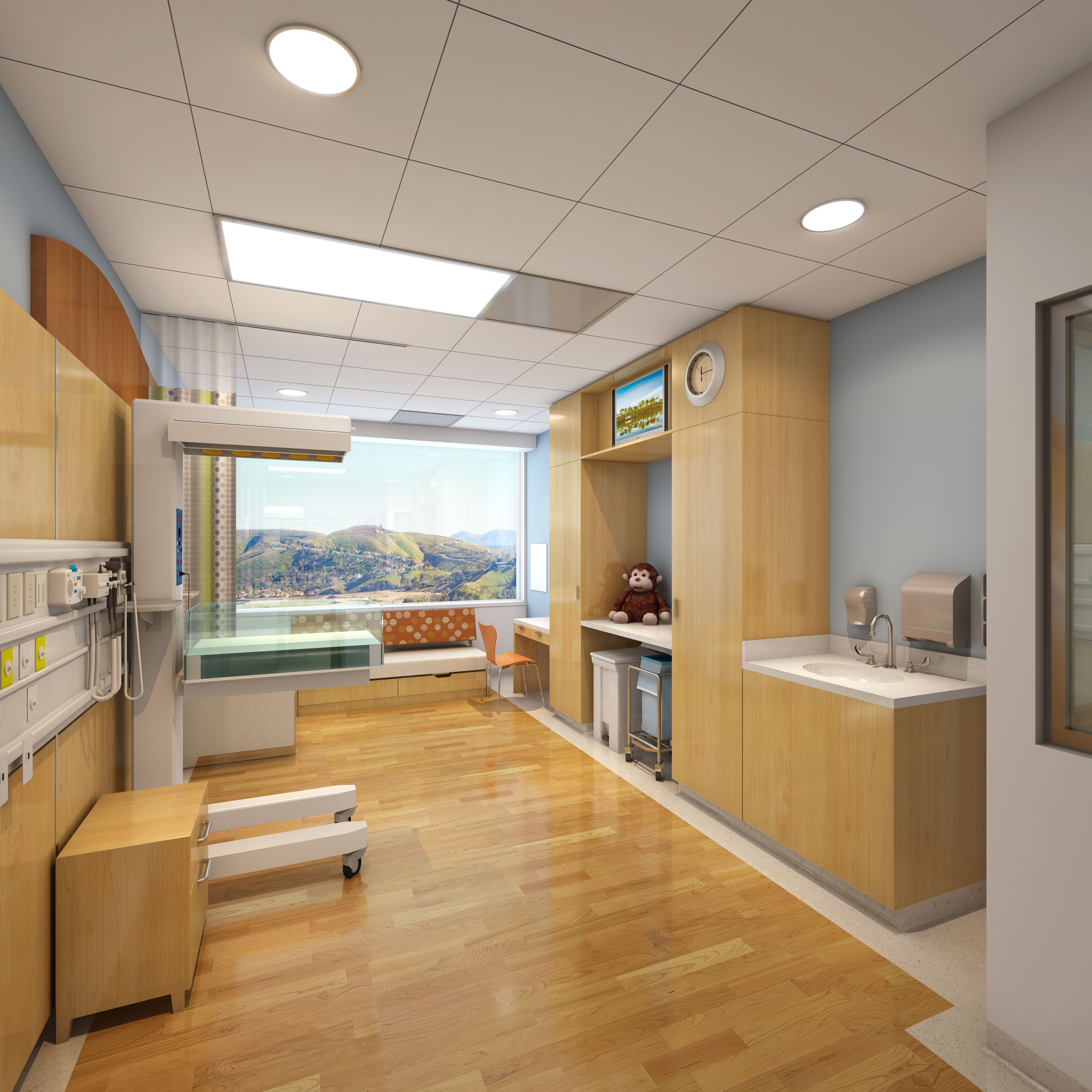 (ORANGE, Calif., Jan. 27, 2016) – To enhance its patient- and family-centered care experience and meet the growing demand for services, CHOC Children's Hospital today launched an expansion to its neonatal intensive care unit.
The build-out will create 36 private patient rooms with amenities to allow parents and guardians to comfortably stay overnight with their critically ill babies receiving highly specialized care at CHOC.
"Every parent wants to stay as close to their baby as possible, especially when the infant needs a high level of medical attention," said Dr. Vijay Dhar, medical director of CHOC's NICU. "The expansion to CHOC's NICU will offer parents and guardians reassurance that they'll be nearby while their baby receives the highest level of care. As an organization committed to patient- and family-centered care, CHOC is proud to soon offer private rooms to our smallest patients and their parents."
Expected to open in summer 2017, the new solo rooms will be housed on the fourth floor of the state-of-the-art Bill Holmes Tower. A potential second phase of construction could add more beds.
Private NICU rooms are setting a new standard for improved patient outcomes. A recent study published in the journal Pediatrics found that infants cared for in single-family rooms weighed more at discharge and gained weight more rapidly than those who received care in an open design. Also, they required fewer medical procedures, had increased attention, and experienced less stress, lethargy and pain. The researchers attributed these findings to increased maternal involvement.
Further, the private-room setting provides the space and privacy that parents need to be more intimately involved in the care of their baby, including breast-feeding and skin-to-skin contact, and parents can stay overnight with their child. In addition, private rooms give staff more access to and interaction with the family and patient.
CHOC's expanded unit will also feature a multipurpose family room, sibling activity room, additional office space and other enhanced amenities.
A fundraising campaign by CHOC to raise $22 million is underway to complete the project. To that end, CHOC has received a $100,000 gift in support of the project from Ray Zadjmool and Nazy Fouladirad on behalf of Tevora, an Orange County information security consulting firm. A room in the unit will be named in honor of the gift.
"We are very happy to support CHOC in the work they do for our community, our neighbors, and our kids," said Zadjmool, Tevora's chief executive officer.
For several decades, CHOC has served infants requiring the highest level of care. CHOC's neonatal services currently offer 67 beds at CHOC Orange and the CHOC Children's NICU at St. Joseph Hospital, 22 beds at CHOC Children's at Mission Hospital, and a team of premier neonatologists who provide coverage at hospitals throughout Southern California.
A suite of specialized services comprises the CHOC NICU: the Surgical NICU, which provides dedicated care to babies needing or recovering from surgery; the Small Baby Unit, where infants with extremely low birth weights receive coordinated care; the Neurocritical NICU, where babies with neurological problems are cohorted; and the Cardiac NICU, which provides comprehensive care for neonates with congenital heart defects.
CHOC's NICU was recently named one of the nation's "top 25" by U.S. News & World Report, reflecting CHOC's unwavering commitment to the highest standards of patient care and safety.
To learn more about the NICU expansion, visit https://www.choc.org/wp/nicuinitiative.