From The Orange County Register
By Deepa Bharath / Staff Writer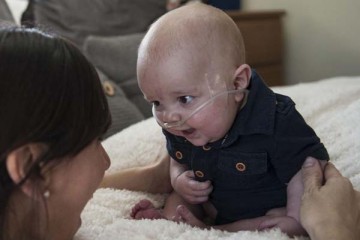 Noah Connally was only 24 days old when his parents tearfully sat by his bedside saying their goodbyes.
Little Noah's troubles began when he was a 20-week-old fetus. An ultrasound showed he had a congenital heart defect – the left side of his heart was not growing.
He was a boy with half a heart.
At 26 weeks, doctors performed a risky surgery in utero, to open up a small valve so the heart could grow on the left side, his mother, Niccole Connally, said.
That surgery didn't make his heart grow, but it did keep his blood pumping and Noah was born at 39 weeks through a Cesarean section on Aug. 18.
Noah remained in the neonatal intensive care unit at Children's Hospital of Orange County and had his first post-birth surgery on day seven. The goal of the seven-hour procedure was to put in a Gore-Tex tube to supply the lungs with blood.
For 10 days after that surgery, Noah was connected to a life-support machine.
On Sept. 10, his oxygen level dipped dangerously low, to a point where he risked suffering irreversible brain damage.
"We were praying hard, but thought it was going to be the end for our child," said Niccole Connally, of Santa Ana. "That's when (doctors) started doing experimental treatment on him. They threw the kitchen sink at him."
Five hours after the ordeal began, Noah's oxygen level started to climb. And two months later, he came home for the first time.
It was a special, miraculous Thanksgiving and Christmas, Connally said.
SURGERY AT DAY 7
Noah is Niccole and Sean Connally's only boy. They have four girls, ages 8, 6, 4 and 2.
Noah has a condition called hypoplastic left heart syndrome, a complex, rare congenital heart defect that leaves the left side of the heart critically underdeveloped.
Dr. Francis Kim, cardiac intensive care doctor at CHOC, says only about 0.1 percent of individuals have the condition, which until about 25 years ago was "universally fatal," he said.
"Now, with advancements in medicine, we have developed a way to fix these hearts," Kim said.
Children with hypoplastic left heart syndrome undergo three surgeries. The first, the one Noah underwent when he was seven days old, converts the heart from a two-ventricle to a one-ventricle system, facilitating blood flow to the lungs using the Gore-Tex tube, Kim said.
The second surgery, which Noah is scheduled to undergo Feb. 24, will involve removing the tube and connecting the right pulmonary artery directly to the vein that brings deoxygenated blood from the upper part of the body to the heart.
The third procedure, which Noah will have when he turns 3, connects the inferior vena cava – the blood vessel that drains deoxygenated blood from the lower part of the body into the heart – to the pulmonary artery by creating a channel through, or just outside, the heart to direct the blood.
Children who have successfully undergone all three procedures have survived and thrived, Kim said. The five-year survival rate following surgeries is 65 percent, according to a Harvard Medical School study.
"The oldest living patient is in his late 30s or early 40s, which gives us all hope," he said.
HOPE AND SUPPORT
For the Connallys, Sunny Brixey's 7-year-old son, Cyris, is another source of hope.
Brixey connected with the Connallys through CHOC.
"We've prayed together, shared our experiences and given them encouragement," she said. "When you've gone through an experience, you can definitely help someone else who is going through a similar situation."
Seeing Cyris, a child who was born with the same heart defect, survive and live a normal life has been an inspiration, Niccole Connally said.
She also meets weekly at a local park with other moms of children with hypoplastic left heart syndrome.
"It's like we're sisters," she said. "There's an instant connection that is indescribable. We pray together, cry together. Their support has been invaluable."
But Connally still struggles with her emotions. As she drives into the CHOC parking structure, she says, she feels overwhelmed.
The family has also been grappling with financial issues. Niccole Connally teaches history at Richland Continuation High School in Orange while her husband is a math teacher at Hewes Middle School in Tustin. Her husband also works as a lacrosse official during the weekends and both teach online for the University of Phoenix.
While Noah's hospitalization costs have been fully covered, they've struggled to care for their four other children and pay out-of-pocket costs for Noah's nursing care and medical equipment.
Noah still hasn't learned to swallow, which means he needs a feeding tube.
Because he has difficulty breathing, even a common cold can turn into a nightmare, as the family found out in late January when Noah's oxygen level dipped so low he had to be hospitalized for about a week.
The Connallys say they are grateful for all the community support they've received – from money from the congregation at Calvary Church of Santa Ana and Orange Unified School District employees, to hot meals that have turned up on their doorstep courtesy of friends and neighbors, to donated vacation hours from Nicole Connallys colleagues.
Nicole Connally said they are trying to raise about $75,000 so she can stay home with Noah after her disability leave runs out in about a month.
Despite the emotional and financial stress, Sean Connally said their lives are fuller and richer than ever
"Noah's condition helps us realize how fragile life is," he said. "It puts into perspective what is really important in life."
Contact the writer: 714-796-7909 or dbharath@ocregister.com