From OC Family.com
By Jenelyn Russo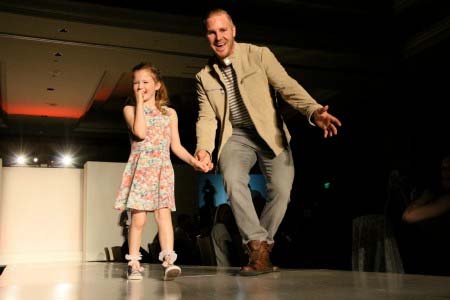 This week it was sunshine, an ocean view and the hottest fashion trends, all for a great cause as the Anaheim Lady Ducks and the Anaheim Ducks Foundation hosted the eighth annual Lady Ducks Fashion Show Luncheon presented by The Grant Family benefiting CHOC Children's.
The Balboa Bay Resort in Newport Beach was the site of this year's sold-out event, where Anaheim Ducks players and their significant others strutted the runway with some very special kids to raise money for Orange County's own children's hospital.
In the past seven years, the event partnership has raised more than $750,000 in support of CHOC and the life saving care they provide to children in our community. This year, the funds raised from the event will go to support the NICU Surgery Unit at CHOC, where children born with conditions that require corrective surgery receive care.
"We are so grateful for what the Lady Ducks are doing for CHOC Children's today," says CHOC Children's Vice President of Marketing and Communications, Jan Lansing. "To raise such enormous amounts of funds so that we at CHOC can save more children's' lives, it's so important. The community's support allows us to continue to offer the best care anywhere in the world for children in this region and the Anaheim Ducks are amazing partners."
Anaheim Ducks TV Host Kent French and KTLA's Henry DiCarlo were the afternoon's co-hosts, as guests enjoyed lunch while watching a fashion show presented by Bloomingdale's South Coast Plaza.
Throughout the afternoon, silent auction items were available for bidding, including items such as Anaheim Ducks signed memorabilia, spa packages, a 50" Toshiba television and a tasting menu at Selanne Steak Tavern.
After the luncheon, live auction items were available to the highest bidder, as Kent French auctioned off exclusive Anaheim Ducks experiences such as a cooking class at Sur La Table with Ducks defensemen Francois Beauchemin and James Wisniewski, a dinner at Anaheim White House with Clayton Stoner and John Gibson, and a four-hour yacht cruise in Newport Beach with Ryan Getzlaf, Bruce Boudreau and Brian Hayward.
At the conclusion of the live auction, the Ducks players and several CHOC Children's Ambassadors took the stage wearing Bloomingdale's spring season fashions.
Background on each of the current and former CHOC patients was shared as they walked the catwalk, including emotional stories such as beating cancer and successfully battling lifelong conditions such as seizures and Spina Bifida, all with the help from care received at CHOC.
Some of the kids were shy, while others took full advantage of their moment under the lights, but they all had smiles on their faces that showed they were creating unforgettable memories.
The event was co-chaired by Caroline Marchant, wife of Ducks Alumni and Director of Player Development Todd Marchant, and Paige Getzlaf, wife of Ducks Captain Ryan Getzlaf. Marchant says that supporting CHOC Children's in their efforts to provide children with the best care possible is a cause that is dear to their hearts.
"It's a chance to give back to the children, the ones who are going through all of this," says Marchant. "Whether it's through improving the technology at the hospital, or finding ways to buy new equipment, we will do what we can to help them have a better chance at surviving the disease that they're fighting.
"We feel that these kids are the real champions, so if we can do anything in our power to help that situation, then we are willing to do it."
And the players were definitely touched by their runway partners and their inspiring stories.
"Any time you can support kids, it's the best feeling in the world," says Ducks defenseman, James Wisniewski. "To see the strength that these kids have and the joy that comes out in their faces during an event like this, you gain a huge perspective on how diseases like these don't discriminate against anybody.
"You see how much joy these kids can bring out in you. They are strong. They are funny. It's just so much fun to be part of their lives for a little bit."