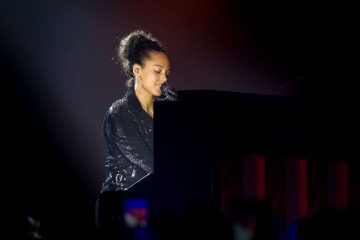 A performance by Grammy Award winner Alicia Keys and a surprise $1 million gift announcement from the Argyros Family Foundation were among the highlights of a memorable evening dedicated to supporting Orange County's only pediatric health care system, CHOC Children's.  Held on Feb. 4 at Monarch Beach Resort, the CHOC Cherishes Children Gala, presented by the Argyros Family Foundation, attracted nearly 1,000 community and business leaders, as well as philanthropists who joined together to raise $5.1 million for the care, services, education and research that CHOC provides children in the region.
Premier sponsors for the gala were the Argyros Family Foundation, underwriting Alicia Keys, Kelly Hallman and the Living Peace Foundation, and international fine jeweler and watchmaker, Harry Winston.
Shruti Miyashiro, chair, CHOC Children's Foundation Board of Directors, presented the Children's Champion Award to the Sharon D. Lund Foundation. In keeping with the generous spirit of Walt Disney's daughter Sharon, the Foundation supports projects that impact children in Orange County and globally. It was with a $5 million donation from the Foundation that CHOC founded the Sharon Disney Lund Medical Intelligence Innovations Institute (MI3), bringing together key people from within the hospital and beyond to foster creativity. The Foundation also helped secure a $1 million gift for CHOC's pediatric mental health initiative.
Following dinner, the awards presentation and the live auction, CHOC President and CEO Kimberly Chavalas Cripe announced the expansion of CHOC's Neonatal Intensive Care Unit, and spoke with grateful parents Jason and Katie Gladding about their personal experience at CHOC.
Alicia Keys performed music from her new album. Before her amazing performance, music legend David Foster surprised the crowd with a heartfelt birthday wish to long-time CHOC supporter George Argyros.
The signature event would not have been possible without the following volunteer committee members: chairs Stephanie Argyros and Dr. Gigi Kroll; underwriting chairs Adrienne Matros, Psy.D and Sarah McElroy; publicity and marketing chairs Daneia Sanadiki and Terri Watkins; auction chairs Suzy Elghanayan, Caroline Marchant and Marsha Willis; décor chair Heather Madden; executive committee members Jill Bolton, Christine Bren, Psy.D, Kathryn Cenci, Niloofar Fakhimi, Monica Furman, Leyla Milani Khoshbin; and event committee members Lili Daftarian, Wendy Hales, Kelly Hallman, Cary Hyden, Kelly Lam, Linda Pierog, F.N.P, D.N.P., Kim Rodosky, Susan Samueli, Sirpa Selanne, Marci Surfas and Dr. Amy VanBlaricom.
"CHOC is grateful for all of the individuals who made tonight possible, from our committee members and sponsors to our guests.  Thank you for supporting our efforts to advance pediatric medicine and research, making a profound impact on the lives of children here and around the globe," said Cripe.
The gala's theme "A Better World Starts Small" honored CHOC's commitment to bring hope and healing to children, helping secure bright futures. Borrowing from the gala's brand colors, the décor featured a black and white industrial theme with a pop of mossy green.  The room sparkled with the help of models donning breathtaking pieces from Harry Winston's Sparkling Clusterere Collection.
In addition to enjoying a collection of wines courtesy of Bianchi Winery, the Alonzo Family and Total Wine & More, guests received gift cards from Total Wine & More and handmade bracelets made in Kenya compliments of WE. The after-party kept the celebration going until midnight and was sponsored by Lili and Paul Daftarian of the Daftarian Group.
The live auction included a French Polynesian vacation for two donated by Legends, Harry Winston's iconic Winston Cluster Diamond Pendant and Ring, 2017 Acura RDX from Acura, a trip to Fashion Week on the runway experience in Milan Italy with Brunello Cuccinelli, a special painting experience with sea life artist Wyland, and sports fan experience packages from the Anaheim Ducks and Los Angeles Angels of Anaheim.