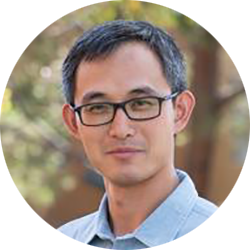 Howard Lei
Ph.D. Sr. Data Scientist
https://www.linkedin.com/in/howard-lei/
This month, we had the opportunity to interview Senior Data Scientist Howard Lei, Ph.D. about his work at CHOC.
Dr. Lei, you are working on multiple innovative projects. What is one that really stands out for you?
I am working with
Dr. Anthony Chang
on a project using artificial intelligence to accurately detect patent ductus arteriosus (PDA) in infants. PDA is a heart defect that may develop shortly after birth that can result in multiple medical complications. In this study, we reviewed 462 echocardiogram video clips and deployed a Convolutional Neural Network (CNN) to try to detect the presence of PDA. We are hoping to eventually deploy this model in the patient care setting to support providers. We also recently published a paper based on our early findings: Patent ductus arteriosus (PDA) detection in echocardiograms using deep learning – ScienceDirect.
Dr. Lei, how do you see data science and artificial intelligence intersecting with innovation at CHOC?
As part of the Mi4 team, I get to learn about problems that are facing our clinicians to determine where AI can be an effective tool. Working with the innovation team helps me connect with providers and makes me aware of new medical technology companies that are integrating AI into their products. By focusing on the needs of our providers and staying on top of the most promising integration of AI with med-tech, we can help CHOC to be a leader in innovative uses of AI.
For the past two summers, you have been a mentor for our summer internship program. Tell us a little bit about that experience.
It is great to see young minds learn about AI and its capabilities. I have been really impressed by how quickly they learn and then apply the knowledge to build their own models with the deidentified data that we provide. It is a pleasure mentoring them. I really enjoy that role.
What is next in the use of AI at CHOC?
I have been working on a project with Dr. Afshin Aminian to assess how braces can be optimized for patients with scoliosis. I am also working with Dr. Chang on a digital twin project that I am really excited about because it is so innovative. I also get to work with Dr. Bill Feaster on a grant that we received related to social determinants of health in Orange County, and that may be an impactful project as well.