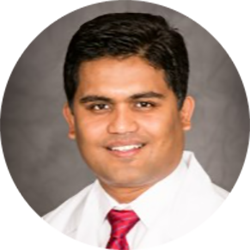 Ashish Chogle MD MPH; Pediatric Gastroenterologist, Healthcare Innovator, Researcher, Educator, Department: CS Gastroenterology
linkedin.com/in/ashish-chogle-md-mph-55393036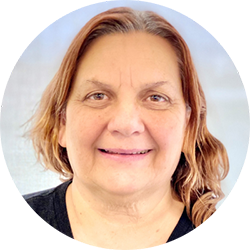 Wanda Rodriguez RN, CPN, Clinical Nurse IV 12 AWS, Department: Med Surg 4th Floor
Dr. Chogle and Wanda became innovation partners, working together to create CareXR, a suite of AR/VR modules in concert with the Innovation Lab and BioFlight VR.
How did your innovation journey with CareXR start?
Dr. Chogle: A few years ago, I experienced the magic of virtual reality (VR) firsthand and started thinking of its possible applications in medicine. Hearing stories about parents who were afraid or uncomfortable while caring for children after they are discharged from the hospital made me think about how we can help these parents become more capable and less stressed. I came up with the idea of using VR to educate parents about their child's medical device and allow them to practice their newly learnt skills in the virtual world.
I was invited to a CHOC Pediatric Hackathon at the Innovation Lab, and that's where I pitched the idea. I was truly fortunate to meet Wanda there, and I found out that she was trying to find ways to solve the same problem. Our hackathon team included Mi4 and nurse scientists, and it was a great experience. Wanda and I became partners as a result of this experience, creating what would later become CareXR.
Wanda: I feel like God brought us together. I teach families every day how to care for children with things like PEG tubes, so they'll be prepared when they leave the hospital. We demonstrate proper care on mannequins and give them printed materials to take home, but like Dr. Chogle, I wanted to come up with a new way to educate them, and to allow them to practice the skills. I have a passion for acting in plays and that came in handy when I was asked to star in our educational videos by the CareXR team. It has been a great experience for me.
How did you move from a prototype to an actual VR module?
Dr. Chogle: After the Hackathon we were approached by the Innovation Lab to further develop our concept. We initially created a high-level overview of the concept and the components that we felt were necessary to create an impactful educational experience for parents. We then presented the concept to Bioflight VR who immediately liked it and chose to be our creative partner. From there, we got down to the finer details of each module and worked on the scripts for the videos and the algorithms for the interactive VR modules. Bioflight VR shot the videos with Wanda teaching on the mannequin baby. It took a lot of hard work and patience to create those videos. Wanda really stepped up with her exemplary acting skills and made sure we did not need more than 1 day to shoot all the videos. We got a taste of "lights-camera-action" experience with the uber-talented Bioflight VR team. We are constantly working with BioFlight to test and refine the modules. It has been quite a journey from concept to prototype to an actual product and I have learned a lot. The CareXR platform we created has exceeded my expectations and I am excited for its upcoming launch at CHOC and Valley Children's.
Matt Keller, Innovation Lab: Suzy and I approached the team after our hackathon, and right away, we knew these two would be great partners. They've been fully engaged through the entire process, spending a lot of hours working with our team and with BioFlightVR to create a unique parent education platform.
How do you feel about being innovators?
Dr. Chogle: I am more of a doer than a talker. I love that I get to explore solutions to problems and make the solutions into reality. CHOC has created an amazing environment of innovation by having Mi4 on campus and its close collaboration with Innovation Lab. At CHOC, I am encouraged to create solutions for everyday problems that we face as clinicians, and that makes my job very interesting and even more rewarding. For future innovators, all I would like to say is that for every 10-20 ideas you have, there will be one idea that will be groundbreaking. So do not stop imagining and do not stop trying, as luck favors the brave!
Wanda: I agree completely. My manager has been supportive every step of the way, and I really appreciate that. It is fun to work on this project as part of a team. We all have a great sense of humor, respect for each other, and excitement working on this product together. Everything has fallen into place. We have learned so much, and we continue to learn every day. That's what I love most about the innovation process.