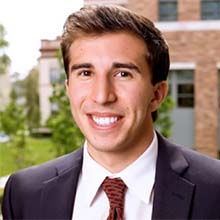 Adam Z. Kalawi, MD
CHOC Neurologist
https://www.linkedin.com/in/adamzkalawimd/
Dr. Kalawi, many know you as a CHOC neurologist, but most people are not aware that you were one of the very first Mi4Summer Interns. Can you share a little bit about that experience?
I started shadowing with Dr. Sharief Taraman at CHOC before the Mi4Summer Internship Program had begun. He told me about a new program that would launch during the summer, I applied, and was accepted into the first cohort. To say that it was life-changing would be an understatement. The Internship Program helped me come out of my shell, encouraging me to explore innovative ideas and pushing me out of my comfort zone. That year, I submitted an abstract for iSPI's inaugural Pediatrics 2040 conference in 2014, and I was selected as one of the abstract competition winners. I later entered an abstract for the inaugural AIMed conference and had the good fortune of being selected to present on the main stage as well. I would have never entered these competitions if it weren't for the encouragement of Dr.'s Chang and Taraman.
I think the biggest thing that I took away from the Mi4 Summer Internship Program was to not have a "settling" attitude; to always be looking for ways to advance and improve things. It's also important to maintain a "youthful" mindset. I learned to be comfortable with change, and I think that's been a driving force, contributing a lot to my growth and success as a young doctor.
This summer, you had the full-circle opportunity of becoming a mentor for the Internship Program. What was that experience like for you?
It was great to see that we are still attracting very bright interns, and it's rewarding to help unlock their innovation instincts. It's impressive that the bar continues to rise, as Mi4 continues to improve the experience for the interns.
I think the primary reason that I chose pediatrics is because I like making early influences that dramatically change a child's health and personal trajectory. In the same way, I enjoy mentoring interns because I can have an early influence on their future career choices and trajectory, just as Dr.'s Chang, Taraman, the late Dr. Nick Anas and others did for me.
What are some ways that you have applied this innovative mindset through medical school and in your current role as a CHOC neurologist?
In residency, I was always a big proponent of pushing to solve challenging diagnoses, asking what tests are not normally ordered, and how can we look at this case from a different angle. While at Rady Children's, I gained hands on experience utilizing genomic sequencing to support making difficult diagnoses, ensuring that we weren't missing anything that could be treatable. I had several cases where I feel this drive to dig deeper made a significant difference in a child's life as our team caught treatable diseases before they had caused irreversible harm. Knowing that CHOC equally embraces this mindset, deploying advanced diagnostic tools to support clinicians, was key to my deciding to come to CHOC.
Following medical school, I interviewed with many children's hospitals throughout the country for residency. I ultimately chose to return to CHOC as an attending, largely because of this culture of innovation. The fact that our top leaders support innovation is something that makes CHOC truly special. I like that my colleagues come from a mindset of exploration and are not locked in their ways of approaching challenges. It's also encouraging to be surrounded by a spirit of collaboration, with both internal and external partners. The faculty members at CHOC are always open to sharing ideas, from the most senior to the most junior, and the amount of support that I've received sincere turning to CHOC has been remarkable.
At CHOC and within Mi4, I like that we are increasing the role of data science and artificial intelligence (AI). In my current role, I want to collaborate with leaders like Dr. Chang and Dr. Steve Martel, with the support of our data scientists, to tackle a lot of old problems with new methodologies. I think we've entered an era in which artificial intelligence and machine learning are not just buzzwords, but they're practical tools that can be deployed to address problems that have challenged medicine for decades.
As Dr. Anthony Chang says, "the future is already here, it's just not evenly distributed." I think, at CHOC, we are kind of ahead in terms of that innovative mindset permeating throughout the institution. I'm happy to be at CHOC and look forward to working with the Mi4 team in the continued growth of medical intelligence and innovation to best serve our patients and families.