Teen Cancer Patient: Treatment & Support At CHOC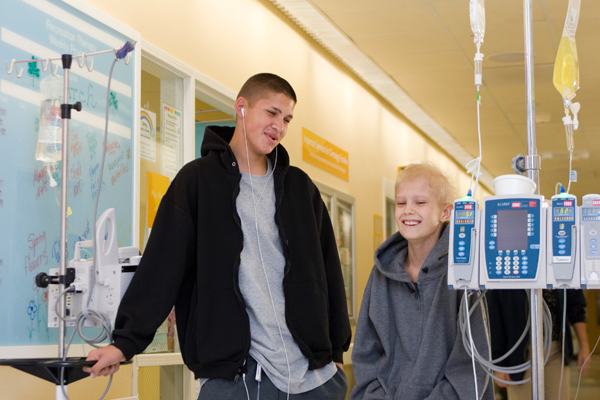 At CHOC we understand there are many different aspects of dealing with teen or young adult cancer. Our adolescent and young adult cancer treatment program and approach is all encompassing and considers not only the physical, but the psychological components as well.
Effects of Cancer on The Body: Teens
The teen years are a time when adolescents develop their self-image, seek autonomy or independence from their parents, and deal with issues of emerging sexuality. Keeping that in mind with young cancer patients, CHOC tries to understand and not downplay the issues of self-esteem and body image. CHOC makes sure we are talking to the patients and not just the parents. No one likes to lose his or her hair, for instance. For a young girl who is 13, 14 or 15, we realize this can be quite catastrophic.
Teenage Emotional Effects of Cancer
At CHOC, we know that a teen's peers are really important too, so we try to keep them involved. Our social workers and nurses talk to the patients to make sure we are listening to them. When teens have been taken out of their normal routine, their school and peer relationships, they can feel like they are losing control. Patients may also enlist support from a religious leader of their chosen faith if they would like. CHOC respects all religions and people's faith and how they cope.
Unique Cancer Research at CHOC
Social and peer acceptance; career and education considerations; and the desire for independence are among issues to be considered when helping the adolescent cancer patient. It's important for everyone involved in the patient's care to consider these factors to better understand how the teen will respond to therapy, the hospital and possibly being in a clinical trial. Fewer teens and young adults nationwide participate in pediatric clinical trials compared to younger children. To help better connect teen cancer patients with their school and peers, CHOC is participating in a research project with UC Irvine that will place a robot in an Orange County classroom — connected to a CHOC patient by a computer — so the patient can interact with classmates and have an improved sense of normalcy. Researchers hope to learn whether the robot keeps the patient better engaged with peers at school.
Childhood Cancer Facts
Estimated number of cancer deaths that will occur this year in children from birth – 19: 1,960
Estimated number of new cancer cases that will be diagnosed this year in the U.S. in children ages birth-19: 15,780
Percentage of overall 5-year survival rate for childhood cancers: 80%
Stupid Cancer Visits CHOC
The Stupid Cancer Road Trip, Kenny and John are on their way to the 2012 OMG! Cancer Summit at the Palms Casino in Las Vegas. On their way they stop by CHOC Children's. Learn more about StupidCancer.org.
Preserving Fertility in Adolescent Cancer Patients
When treating children and teens with cancer at CHOC, physicians also have another health aspect in mind: patients' future fertility.
Because so many adolescent cancer patients are surviving into adulthood, physicians, patients and their families have a major interest in preserving a patient's fertility, as well as the long-term effects that treatment can have on a patient's fertility in the future.