Sleep Position for Young Infants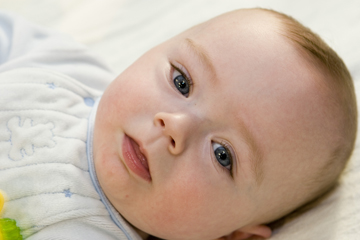 Healthy, Safe Sleep for Baby
As new parents often find, no one in the house sleeps if the baby doesn't sleep. It's very common to have sleep troubles with a baby, especially as new habits and routines are being developed.
Newborns and babies should get the recommended amount of sleep based on their age. These recommendations are only guidelines and not every baby will follow them:
Birth to 6 months – 9-12 hours at night (waking through the night to feed) / 2-8 hours during the day
6 months to 12 months – 10-12 hours at night (usually sleeping through the night) / 2-5 hours during the day
CHOC at Mission Hospital Opens State-of-the-Art Sleep Center
Families in South Orange County now have access to a state-of-the-art Sleep Center for children who need overnight monitoring to diagnose problems related to sleep.
The new three-room unit at CHOC at Mission Hospital offers private, comfortable accommodations and the latest technology for routine polysomnograms (sleep studies). CHOC already performs more than 750 sleep studies a year at its three-bed Sleep Disorder Center in Orange.