A track and fie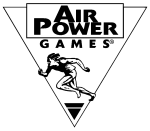 ld Day for Children ages 5-14 diagnosed with Asthma.*
Date: Saturday, June 2, 2018
Check-in Time: 8:30 – 9:00 a.m.
Time: 9 a.m. – 1 p.m.
EVENTS:
50 and 100 meter runs
Long jump
Javelin toss
Obstacle course
Awards for first, second and third place.
Free t-shirts for all registered participants.
Early Registration fee: $5 by April 27, 2018, after, $10
Registration closes May 11, 2018.
Please note: Registration fees are non-refundable
Location:
Santa Ana College
1530 W 17th Street
Santa Ana, CA 92706
* CHILDREN MUST BE DIAGNOSED WITH ASTHMA BY THEIR MEDICAL PROVIDER. ATHLETIC ATTIRE (GYM CLOTHES) IS REQUIRED FOR ALL PARTICIPANTS. PLEASE BRING CHILD'S SPACER AND ALBUTEROL INHALER. IT IS STRONGLY SUGGESTED THAT CLEARANCE BE OBTAINED FROM THE CHILD'S PHYSICIAN PRIOR TO PARTICIPATING IN THE AIR POWER GAMES®.
Children: Please wear sneakers and gym clothes.
Parents: Please bring your child's spacer and albuterol inhaler. At least one parent/guardian must accompany the child to the event.
For questions and more information please call Cristina Bernal at 714-509-7573 or email: cbernal@choc.org.