A track and fie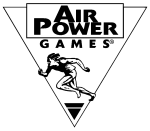 ld Day for Children ages 5-14 diagnosed with Asthma.*
Saturday, May 20, 2017
9 a.m.–1 p.m.
EVENTS:
50 and 100 meter runs
Long jump
Javelin toss
Obstacle course
Awards for first, second and third place.
Free t-shirts for all registered participants.
Location:
Santa Ana College
1530 W 17th Street
Santa Ana, CA 92706
*CHILDREN MUST BE DIAGNOSED WITH ASTHMA BY THEIR MEDICAL PROVIDER. IT IS STRONGLY SUGGESTED THAT CLEARANCE BE OBTAINED FROM THE CHILD'S PHYSICIAN PRIOR TO PARTICIPATING IN THE AIR POWER GAMES®.
Children: Please wear sneakers and gym clothes.
Parents: Please bring your child's spacer and albuterol inhaler. At least one parent/guardian must accompany the child to the event.
Register by April 14, 2017
For questions and more information please call Cristina Bernal at 714-509-7573 or email: cbernal@choc.org.