Celebrating 25 Years… A Night in Havana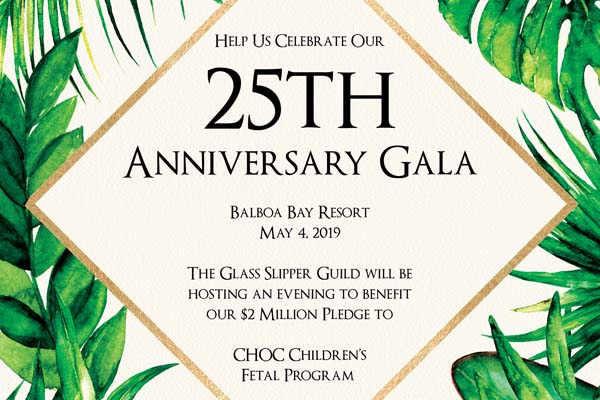 2019 Glass Slipper Gala "A Night in Havana"
Join the CHOC Glass Slipper Guild to celebrate their 25th Anniversary Gala and experience the sounds, sights, and flavors of a hot Havana night! This evening is not to be missed as we honor the lives of incredible children, families, physicians, and staff of CHOC.
Guests will feel the warm tropical breeze as they enjoy a cocktail reception and silent auction. They will then be enchanted by old-world glamour where a gourmet dinner and dessert will be served, followed by a thrilling live auction. Get ready to sizzle, salsa, and swoon as the after party will wrap up the evening with music, dancing, and a casino.
For more information about sponsorships, please contact Lauren Johnston at 949-302-5310 or GlassSlipperWAM@gmail.com.
Matching Gifts Program
Many employers sponsor matching gift programs and will match any charitable contributions made by their employees. If your company is eligible, request a matching gift form from your employer, and send it completed and signed with your gift. We will do the rest. The impact of your gift to CHOC Children's may be doubled or possibly tripled! Some companies match gifts made by retirees and/or spouses.
To find out if your company has a matching gift policy, please visit www.matchinggifts.com/chochospital/.
Date: Saturday, May 4, 2019
Time: 5:00 p.m. to 12:00 a.m.
Location: Balboa Bay Resort
1221 West Coast Hwy
Newport Beach, CA 92663
Please enjoy Mobile Auction Bidding at https://Slipper.givesmart.com
Glass Slipper Guild's 25th Anniversary Gala Sponsorship Levels
For more information or to reserve your sponsorship, please contact  Lauren Johnston 949-302-5310 or GlassSlipperWAM@gmail.com.
Our 2019 Sponsors
ANNIVERSARY
Isidore C. and Penny W. Myers Foundation
Maggie and Jon Horne
Nicholas and Nicole Long
CARE
Critical Components, Inc.
HOPE
Delta Dental
Dan and Vivien Hyman
OPPORTUNITY
Shveta and Mohit Mittal
Mara and Keith Murray
One Legacy
Cyndie and Tom Podmajersky
Rainbow Rising
LIFE
Rami and Alia Batniji
Kent and Stefanie Lee
John Rallis and Mary Lynn Bergman-Rallis
Serve First Solutions, Inc.
UCI Maternal Fetal Medicine
Rick and Lauren Westberg
HEAL
Blumenstein Law
Justin and Heather Busch
Kristina and Mark Chatow
Design Pickle-Unlimited Graphic Design Help
gorjana
David Ghannadi and Sarah Jebreil
Google
Catalina and Derek Gustafson
Marisa and Bryan Hakala
Hewlett Packard
Dr. Faith Huang and Dr. Stephen Poon
Lauren and Christopher Johnston
Sumit and Dr. Tina Jussal
Wyman and Lydia Lai
Dr. and Mrs. Brandon Law
Dr. Jose Mayorga and Jamie Mayorga
The MEDCOR Group Inc.
O'Donnell Real Estate
The Oliver-VanWagner Family
PIMCO
The Rotter Family
The Schenquerman Family
Mike and Kimberly Shipman
Marmar and Samir Sikka
Rusty and Jeannie Walther
Sara Webb
Dr. Peter and Mrs. Jean Yu
COMPASSION
Batniji and Friends Lemonade Stand
Bloomingdale's
Cammy and Callaway Kincade Birthday Fund
The Capital Group
Classic Kids
Roberta Franke
Ayla Goodger
Dr. and Mrs. Wayne Gouvion
Grit Cycle
J. McLaughlin
Christos and Anna Karmis
Tyner and Kathleen Kincade
Noah and Nevin Long Birthday Fund
Nordstrom
Dominic Riccabona
Karen Ellis Spane
Ann Speltz
The Stand
Stella McCartney
Jill and David Susson
Amy Wilcox
Map and Directions
Balboa Bay Resort
1221 West Coast Hwy
Newport Beach, CA 92663