UCI/CHOC Child & Adolescent Psychiatry Fellowship Program
Welcome! The University of California at Irvine (UCI)/CHOC Children's Hospital offers a two-year training program in a fully ACGME-accredited fellowship program. Our child and adolescent psychiatry program aims to prepare fellows for careers as leaders in clinical or academic medicine through a superior academic, professional, and collegial atmosphere. Our fellowship has rotations at both UCI Medical Center, UCI outpatient clinics, CHOC Children's Hospital, Orange county behavioral health clinics, etc.
Here at CHOC, we have a state-of-the art and nationally renowned children's hospital. While at CHOC, fellows gain experience in providing acute inpatient psychiatric care and in psychosomatic care on a Consultation/Liaison service. Fellows also embed in specialty bulimia anorexia nervosa (BAN) clinic. In their second year, they carry therapy cases for medically complex patients with psychiatric issues. Our program is designed to meet the ACGME requirements for fellowship training so fellows may be eligible and successful in attaining board certification. We have a 100% pass rate with adult and child psychiatry board exams in past 5+ years.
Nationally, there is a severe shortage of child and adolescent psychiatrists but a growing need for childhood mental health care. Therefore, we are committed to training the next generation of physicians who evolve to be physician-leaders, researchers, academicians, skilled therapists and advocates. We are committed to recruiting a diverse set of future child psychiatrists. We strongly believe that diversity in physicians leads to a richer learning environment and better overall care for children and families.
The training and education of medical students, residents, and fellows has been a longstanding focus of CHOC. Each year, CHOC trains about 290 residents and fellows from 38 different training programs, along with 190 medical students.
UCI/CHOC Child & Adolescent Psychiatry Fellowship Program
1201 W La Veta Ave
Orange, CA 92868
Paramjit Joshi, MD
Training Director
Interim Chief of Department
Child and Adolescent Psychiatry Department at UCI
Lavanya Wusirika, MD
Child & Adolescent Psychiatry Fellowship Director – CHOC
Lavanya.Wusirika@choc.org
Hoang 'Wayne' Nguyen, MD
Division Chief, Child & Adolescent Psychiatry – CHOC
Michelle Carey, BA, PMP
Department Assistant
About the Fellowship Director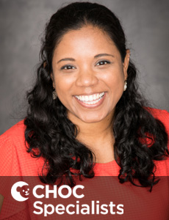 Dr. Lavanya 'Lava' Wusirika is the fellowship education director for the UC Irvine-CHOC Child & Adolescent Psychiatry Fellowship program at CHOC hospital. Dr. Lava, as everyone calls her, got her B.S. at UC Berkeley in Bioengineering. She went on to a brief career in bioengineering research and microfluidics. She also had a side career in attending Cal football games. She left bench research and went to medical school at USC (University of Southern California) Keck School of Medicine. She completed her adult psychiatry residency training at LAC-USC Medical Center in the heart of downtown Los Angeles, CA. She then completed her child and adolescent psychiatry training at UCLA.
Dr. Lava now works at the CHOC Children's Cherese Marie Laulhere Mental Health Inpatient Center (MHIC), an 18-bed inpatient psychiatric unit for children and adolescents from ages 4 to 17. She has committed her life's work to taking care of those with serious mental illnesses and the underserved populations of Southern California. In her spare time, she enjoys kayaking, true crime documentaries, scary movies and going on long walks with her baby and her husband.
Dr. Lava is the proud recipient of the 2021 and 2022 UCI Child and Adolescent Psychiatry Faculty of the Year award.
Our Hospitals
University of California, Irvine
UCI provides extensive, high-quality education and clinical training, with 560 full-time faculty members and more than 1300 volunteer faculty members from 26 clinical departments. UCI sponsors a multitude of innovative and highly productive research programs. In addition to its adult programs, UCI serves as the sponsor for residencies in Pediatrics, Child Neurology, Combined Pediatrics/Anesthesia, and Medical Genetics, as well as fellowships in Neonatal/Perinatal Medicine, Pediatric Pulmonology, Pediatric Critical Care, Pediatric Infectious Disease, Pediatric Urology, Child and Adolescent Psychiatry.
Read more about UCI Graduate Medical Education
CHOC Hospital in Orange
CHOC is an academic, community-based hospital that serves as the main site for training in the fellowship. It has 334 beds, including a 30-bed PICU, 12-bed Cardiac ICU, 72-bed NICU, an 18-bed mental health inpatient center and separate Oncology and Neuroscience units. In 2016-2017, there were 12,891 hospital discharges with 89,791 ED visits and 4,252 transports to CHOC. CHOC's ED is a Level II pediatric trauma center. CHOC also operates primary care and specialty clinics throughout the county. The hospital serves about 2 million patients over 4 counties. The training and education of medical students, residents, and fellows has been a longstanding focus of CHOC.
Each year, CHOC trains about 290 residents and fellows from 38 different training programs, along with 190 medical students.
CHOC has an active Innovation Institute. The Sharon Disney Lund Medical Intelligence and Innovation Institute (MI3) at CHOC is a unique and first-of-its-kind institute that creates, focuses, and executes projects in the areas of intelligence and innovation in pediatric medicine. These two interrelated disciplines, extremely limited in development in the pediatric realm, hold great promise to change the trajectory of pediatric care around the world. MI3 aims to foster robust developments in artificial intelligence methodologies, as well as innovative advances in emerging areas such as genomic medicine, regenerative medicine, robotics, nanotechnology and medical applications/devices. MI3 is dedicated to empowering data intelligence and medical innovation at CHOC and driving innovation leadership in the international pediatrics community. Fellow physicians in our program will be exposed to MI3 and have the opportunity to partake in an innovation project during their training if they choose.