The Training Program

The psychology internship program at CHOC specifically focuses on the development of specialized professional skills in pediatric and child clinical psychology. We expect that interns will enter the program with previous experience in child psychotherapy and child assessment. During the year, interns will receive first-hand experience in applying their knowledge of child development and their skills as a child therapist to children affected by medical illness. Interns have the opportunity to do this through a wide variety of experiences, such as inpatient consultation-liaison services to a variety of medical specialty units, more intensive experiences with specific medical specialty teams, and outpatient psychotherapy. In addition, the internship is committed to providing appropriate and relevant services to culturally diverse families. As an intern, you will be exposed to a multicultural context that challenges the professional practice of even the most seasoned psychologists. Orange County offers a very culturally diverse population. In particular, Orange County has significant Latino, Vietnamese, Indian, and Filipino populations.
Interns at CHOC participate in a variety of training activities. Interns have the opportunity to receive both a breadth of experience with children with medical diagnoses and more traditional child psychopathology along with in-depth experiences with specific specialty medical teams. There are a variety of core training experiences that take place throughout the entire training year. Trainees participate in two six-month specialty rotations through an array of CHOC specialty services and clinics. Trainees also participate in up to three targeted three-month minor rotations. Each training experience is described below.
While time spent in each activity can differ on a week to week basis, the basic breakdown of time spent in each activity is as follows (chart based on 40 hour week):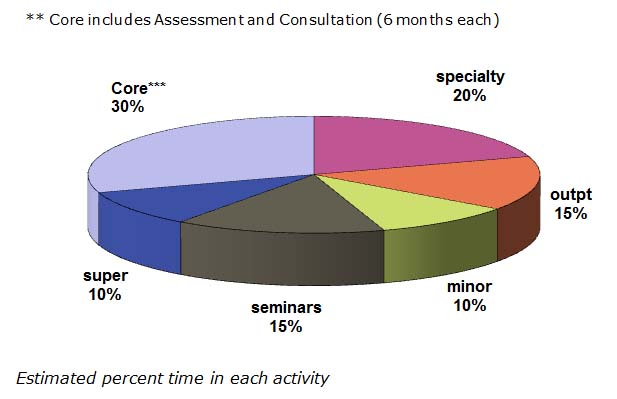 Consultation and Liaison Service (6 month rotation): Breadth of experience with a variety of medical diagnoses comes from an intensive 6-month rotations with the consultation and liaison service at CHOC. Interns not only serve as consultants for the patient and/or family, but for the medical team, around a variety of issues. Consults are requested by attending physicians, residents, nurses, or other health care providers for children who are hospitalized for medical diagnoses and are experiencing concomitant psychological problems. Referral questions range from behavioral emergencies to coping with an initial diagnosis to adherence to complicated medical regimens to parental discipline to coping with death and dying issues. Medical diagnoses also run the gamut from diabetes to epilepsy to eating disorders to hemophilia to sickle cell disease to juvenile rheumatoid arthritis to oncology to pain disorders. After an initial assessment, interventions may range from a referral for outpatient psychotherapy to referrals for psychological or neuropsychological assessment to interventions with the child and/or family while in the hospital to consultation and interventions with the medical team. Interns participate on a more general consultation service two days a week with a faculty supervisor. Interns will learn to conduct a brief clinical evaluation, formulate an impression, and formulate disposition plans. While cases can be complex, interns always work with a supervising faculty member, are part of a consultation liaison team which includes psychology attendings, psychology postdoctoral fellows, and another psychology intern, and participate in weekly C & L rounds. The C & L team also includes child and adolescent psychiatry fellows and psychiatry attendings. It is a busy consultation service, so you will be able to see 2 or more cases per week while on the service. (Supervsior: Harpreet Kaur, Ph.D.)
Neuropsychological/Neurodevelopmental/Psychological Assessment Experience: All interns will participate in 6 months of assessment experience during the internship. Depending on interest and rotations selected, interns can participate in an additional 6 months of neurodevelopmental assessment and/or neuropsychological assessment. Within the 6 months of neurodevelopmental assessment, interns will complete neurodevelopmental evaluations with a broad age range of infants,toddlers, and preschoolers presenting with various medical conditions (e.g., epilepsy, cancer, metabolic and genetic disorders, and cardiac conditions). Within the 6 months of additional neuropsychological assessment, interns will complete 1-2 neuropsychological evaluations per month (please see below for a further description). All interns participating in the assessment experience will complete 4-5 assessments during the 6 month rotation. The assessment clinic receives a wide variety of referrals ranging from ADHD evaluations to complex neuropsychological assessments to diagnostic questions regarding learning to developmental assessments and screenings. The general approach adopted in the clinic is one of hypothesis testing and testing to the referral questions. At the end of the training year, all interns will have proficiency with a variety of assessment instruments, referral questions, ability to provide difficult feedback to children and families, and the ability to recognize when to seek consultation. In many cases, you will also work with the child's rehabilitation therapists, community agencies, and/or school in order to assist them in appropriate educational planning and may attend IEP meetings. (Supervsiors: Amy Maser, Ph.D. and Marni Nagel, Ph.D.)
Outpatient Therapy: In addition to cases that are followed on a specialty rotation, over the course of the year, each intern will carry –up to 5 outpatient therapy cases at any given time depending upon rotations selected. Referrals will include children and families coping with a medical diagnosis, noncompliance with medical treatment recommendations, pain control, and more traditional outpatient referrals, including depression, attention and behavior problems, anxiety, and family conflict. Interns will have the opportunity to see a variety of clients ranging in age, socioeconomic status, and cultural diversity. As a part of the outpatient therapy rotation, interns will conduct new patient initial evaluations. Through the outpatient therapy clinic, interns receive exposure to a wide range of referral questions and in making decisions about what services are needed. Participation in this clinic provides interns the ability to refine their skills in rapid interviewing, diagnosis, case conceptualization, intervention, and disposition of outpatient therapy cases.
Behavioral Emergency Services/On Call: A distinctive feature of our program is that all interns receive training in managing behavioral emergencies through the provision of consultation services to the CHOC Emergency Department and hospital inpatient medical units. Interns and postdoctoral fellows rotate taking after hours call throughout the year for high risk consults. Trainees are always paired with a faculty member for this coverage. High risk consults include assessment of suicide risk or acute mental status changes. Interns will conduct a brief clinical interview, provide crisis intervention and immediate disposition plans for the suicidal patient, the potentially aggressive patient, and the psychotic patient. This training experience helps to increase your competence and comfort in assessing and managing behavioral emergencies
Specialty Rotations

Specialty rotations are designed to be an in-depth experience within a specific area. By focusing on a single medical service for six months, interns have the opportunity to become an integral part of the medical team. Interns will play a central and vital role in providing psychosocial interventions and consulting with the medical team. Rotations may vary each year, but at least 4 of the following rotations will be offered each year.
Possible rotations may include:
Feeding Disorders (Main Supervisor: Cindy Kim, Ph.D., ABPP)
Oncology (Main supervisor: Eva Nguyen, Ph.D.)
Neuropsychology (Main supervisor: Amy Maser, Ph..D.)
Pulmonary (Main Supervisors: Adrianne Alpern, Ph.D., Marni Nagel, Ph.D.)
Endocrinology (Main Supervisor: Sabrina Karczewski, Ph.D.)
Interns on the Feeding Disorders rotation will participate in multidisciplinary outpatient feeding evaluations within the CHOC Feeding team's multidisciplinary outpatient evaluation clinic. This team includes physicians, nurse practitioners, physical and occupational therapists, and social workers. Interns will also participate in the innovative intensive 21-day inpatient feeding program for G-tube weaning. Interns will work closely with children and families participating in the observation of meals in a state of the art multi-media room and in providing behavioral interventions to the patients and parent training for the parents. Interns will work with both patients and parents during the inpatient admission. Interns on this rotation will gain knowledge about complex feeding disorders and techniques to treat feeding difficulties. (Supervisor: Cindy Kim, Ph.D., ABPP)
The Oncology rotation involves working with infants, children and teens with many types of cancer and following them throughout their inpatient medical treatment and frequently beyond. It is common on the Oncology Rotation to work not only with patients, but also parents, siblings, and even extended family members at times. The Oncology intern will work on the Oncology inpatient floor (as well as on an outpatient basis) to assist families with a new diagnosis, address depression, pain management, anticipatory anxiety and noncompliance, and help patients and families maintain hope throughout their treatment. Fortunately, the majority of children diagnosed with cancer will survive their illness. However, families are also assisted in dealing with issues of loss and grief, as appropriate. Some assessment may be included to establish the patient's baseline cognitive functioning and to follow any cognitive changes after bone marrow transplantation.
The Oncology rotation has a large interdisciplinary training aspect, as Psychology plays an important role within the Oncology Division, and is involved in ongoing coordination with physicians, nursing, and the other members of the Oncology Psychosocial Team (social workers, child life specialists, CHOC schoolteachers, and chaplains). (Supervisor: Eva Nguyen, Ph.D.)
Interns on the Neuropsychology rotation will conduct neuropsychological evaluations for children and adolescents with a variety of medical and possible mental health diagnoses including children with ALL, brain tumors, epilepsy, traumatic brain injuries, spina bifida, HIV, etc. The intern participates in concussion clinic as well, conducting initial evaluations, administering testing, and providing feedback regarding optimal timing for returning to school and/or sports. The intern will also have the opportunity to learn about and observe EEGs anddo bedside neuropsychological exams. As a part of this rotation interns will learn about the evaluation process for pre-epilepsy surgery by observing faculty, attending pre-surgery rounds, and testing pre-surgery candidates. (Supervisor: Amy Maser, PhD)
Interns on the Pulmonary rotation work closely with the multi-disciplinary Pulmonary team, with a focus on patients with cystic fibrosis (CF) and sleep apnea. Interns will participate in both the CF clinic and Sleep Apnea Team clinic, with a variety of health care providers in both clinics, including physicians, nurses, case managers, nutritionists, social workers, respiratory therapists, polysomnography sleep technicians, diabetes nurse educators, and at times rehabilitation therapists and pharmacists. Additionally, interns will provide screenings for depression and anxiety for adolescent patients. In the CF clinic, interns will also provide screenings for depression and anxiety for parents. As the psychological consultant in these clinics, you triage and assess clinic attendees. Identified problems have included, coping with new diagnosis or treatment, adherence issues, school issues, and psychological factors affecting the medical condition. Interns will also have the opportunity to work with patients with diabetes or CF who are admitted to the hospital for medical exacerbations. (Supervisors: Adrianne Alpern, Ph.D. and Marni Nagel, Ph.D.)
Interns on the Endocrinology rotation will participate in the Endocrine Clinic, with a variety of health care providers in both clinics, including physicians, nurses, case managers, nutritionists, social workers, respiratory therapists, diabetes nurse educators, and at times rehabilitation therapists and pharmacists. Additionally, interns will provide screenings for depression and anxiety for adolescent patients. As the psychological consultant in these clinics, you triage and assess clinic attendees. Interns will also have the opportunity to work with patients with diabetes who are having difficulty adhering to their medical regimen within a brief 4-session therapy model. Identified problems have included, coping with new diagnosis or treatment, adherence issues, school issues, and psychological factors affecting the medical condition. Interns will also have the opportunity to work with patients with diabetes who have been admitted to the hospital for medical reasons, as well as in outpatient therapy. (Supervisor: Sabrina Karczewski, Ph.D.)