Childhood doesn't pause. Neither does our care.
At CHOC, every advancement in pediatric cancer treatment is another step toward preserving the magic of childhood.
Hyundai Cancer Institute at CHOC Annual Report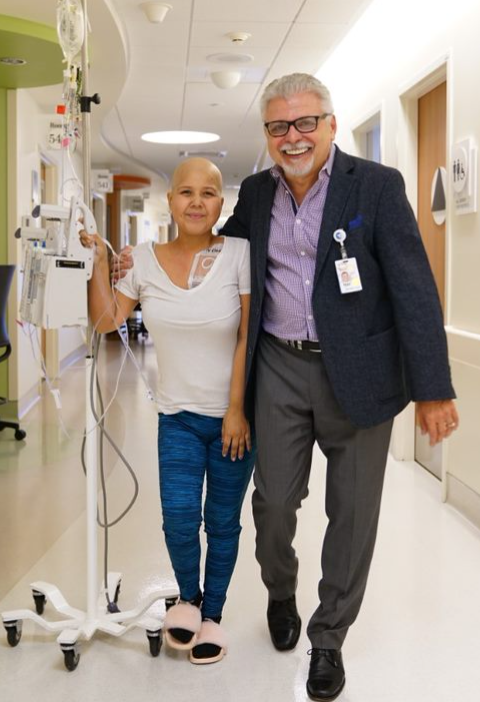 Every day, our team at the Hyundai Cancer Institute at CHOC ensures that the highest quality care and cutting-edge treatments are delivered as part of CHOC's mission to nurture, advance and protect the health and well-being of children. The challenges we faced in 2020 did not deter us from quickly adapting to fulfill this important mission for our community. In fact, the challenges led to notable creative solutions and new opportunities to deliver care and connect with our patients and families—like introducing telehealth visits and the socially distanced CHOC Oncology Ball presented by The J. Willard and Alice S. Marriott Foundation.
Innovation also continued in research and clinical care with specific progress around clinical integration of genomic data, addressing disparities, fertility preservation, surgical procedures, as well as the high impact stories featured in this report. These advances—combined with our sustained excellent outcomes—led the Hyundai Cancer Institute to be recognized again in 2020 by U.S. News and World Report as one of the top pediatric cancer programs in the nation. We are proud of our team and honored to share some highlights in this annual report.
Looking forward to a brighter 2021!
Ivan I. Kirov, MD
Medical director, Hyundai Cancer Institute at CHOC
Medical director, oncology, CHOC Specialists
Erick Herrscher, MBA, MS
Director, Hyundai Cancer Institute at CHOC

1,921
PATIENTS
TREATED

11,444
VISITS

24
STEM CELL
TRANSPLANTS 145
ACTIVE CLINICAL
STUDIES
Strides in Clinical Innovation
A Team Approach to World-Class Care
The advancements in treatment and our whole-child approach to care at the Hyundai Cancer Institute would not be possible without a team of caregivers that extends beyond pediatric oncology. We are proud to offer comprehensive programs involving:
Radiation oncology
Surgery
Orthopaedic surgery
Neurosurgery
Urology
Cardiology
Radiology
Psychosocial services
Genetics
Rehabilitation
Palliative care
Thank You to Our Community / Corporate Partners & Donors
Donors
Stanley W. Ekstrom Foundation
Rand and Rosemary Sperry
Dhont Family Foundation
The Rallis Foundation
Ali Bartholomew
Greinke Family Foundation
Mr. and Mrs. Robert Caulfield
The Don Yoder Foundation
Downey-Short Foundation
Mr. and Mrs. Zachary F. Fischer
Mr. and Mrs. Don Kuo
Anonymous
Companies
The J. Willard and Alice S. Marriott Foundation
Nuvision Federal Credit Union
ProGroup
LPA Designs
Ampersand Production and Events
Theater 10
RWB
Gorjana
Ethika
Vans
Planet Beauty
Slaack Productions
Sugarfina Jennifer Brennan Photography
Panini Kabob Grill
Together, We Can Make a Difference
Our partnership with Hyundai Motor America and Hyundai Hope on Wheels is one of the reasons we have been able to place such a strong focus on cancer research, which has greatly advanced at CHOC. From supporting mental health for oncology patients to innovative research, Hyundai helps us provide holistic healing to the children we serve.